ARTIFICIAL HEDGE FOR SALE
NSW, QLD, VIC, ACT
Beautiful freestanding artificial hedging set in white, natural or black wooden boxes are available for sale Australia wide. The hedging is being used for indoor and/or outdoor applications, as event décor for corporate functions, weddings & exhibitions. Quality portable boxwood hedging create spectacular visual boundary, entrance or walkway hence ideal for hotel gardens, café and restaurant terraces and other venues and function centres.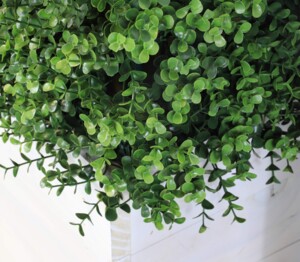 Our 1M Artificial Hedge For Sale Features:
Dimensions: 115cm wide x 100cm high x 40cm deep
Portable & sturdy
Natural fresh look
Weatherproof and UV Stable
Commercial or household use
Virtually maintenance free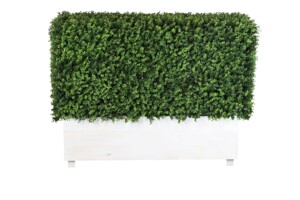 Popular events include:
Achieve Instant Greenery and Privacy with Our Premium Hedge Wall Panel
Immediate Greenery and Privacy: Our Premium Hedge Wall Panel effortlessly brings instant greenery and privacy to any indoor or outdoor space, creating a serene oasis.
Durable and Low-Maintenance: Crafted from UV-resistant plastic, this artificial hedge wall panel ensures years of outdoor durability and beauty without the hassle of watering or pruning. It's backed by a 12-month product warranty.
Versatile Screening Solution: This adaptable hedge wall panel excels at screening any area, whether it's concealing an unsightly view, providing a picturesque photo backdrop, or dividing a room.
Authentic and High-Quality: This hedge wall panel faithfully replicates the appearance and texture of real buxus, elevating your space's aesthetics.