Event Marquees Sydney is an industry leader in marquee hire. We have over 15 years of experience making weddings, corporate events and parties special. Our marquees are of high quality and installed safely by our team of professionals. Not only do we provide marquees we also have an extensive range of fun extras which can make your marquee hire comfortable and stunning.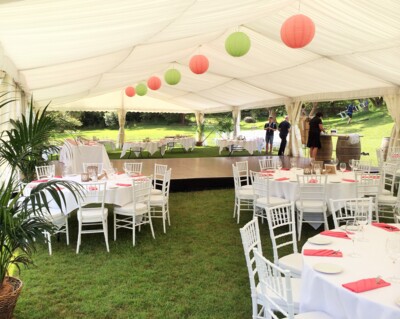 Lining
We have a range of linings which can add to the ambience of your marquee. Our linings are especially popular for weddings. There are silk and satin linings which can can create a snow white affect or alternatively flat roof linings. We have many pictures we can share with you so you can decide what lining would suit your next event.
Wooden Flooring
Often flooring is a must with your marquee hire. Flooring protects the ground underneath but it also makes dancing and walking around in heels more comfortable and safer for your guest. Our flooring will also make the marquee area level which means that furniture will sit correctly. For an extra cost Event Marquees can provide you with integrated polished wooden floors. You can rest assured that our wooden floors are of high quality and will add to the look of your marquee hire. Our flooring can also safely cover pools.
In addition to wooden flooring we can provide artificial grass for your next event.
Party Hire Furniture
Once you have decided on your marquee hire for your event we can provide you with a full range of party hire furniture which will wow your guests. We have lounge chairs and ottomans which will create different areas for your guests to relax. We also have lighting of different styles, from fairy lights to crystal chandeliers as well as cutlery and glassware. For dining there is a range of table configurations and chairs, in particular the popular Tiffany chair. If you want to create versatility in your marquee space we can organise stools and bar tables. If it's going to be hot Event Marquees can provide you with fans and if it's winter we have effective heaters so everyone is comfortable. Our experienced customer service personnel are happy to provide you with guidance on what party hire extras you may require.
To see our full range of party extras have a look at our website today.