Hosting the perfect dinner party is always loads of fun, but once you've made the initial decision to host one, it can sometimes become a little daunting remembering all the preparations you need to make.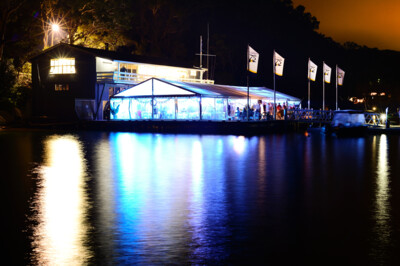 At Event Marquees, we feel that we have the top 5 tips for you to really help you cover all the areas for the perfect dinner party.
1. Who and Where?
Who to invite is always a good starting place. The number of guests defines most of your decisions from the space you choose to dine in, to what food you prepare and whether you own enough cutlery and dinnerware (for those of you throwing a big event!)
The space you dine in will depend on your guest numbers and also the weather. In Oz, we are lucky enough to enjoy some of the best weather in the world but even we know it can turn quite quickly and we need to have a back-up plan. Event Marquees provides lots of small marquees for dinner parties to provide a stylish yet protective canapé. Whether indoors or out, make sure you have enough room for everyone to feel they have room to move and be relaxed.
2. Theme and Decorations
Deciding on a theme or style for your perfect dinner party is always good to do early on as it gives you and your guests a chance to really work out an outfit, and you a chance to get your vision for the evening. Whether you're planning a fancy-dress idea or a simple elegant occasion, decide on your decorations in time to make, buy or hire the necessary things ie Flowers, candles, outdoor lights, table cloths, balloons, ribbons etc. Maybe make a seating plan or put names-cards on the table.
Think of any special touches that will make the evening memorable and classed as the most perfect dinner party ever!
3. Cutlery and Dinning Ware
It might sound obvious, but having the right number of (matching?) cutlery and dinning plates for your evening is always important. If you are going for a multiple-course meal, then make sure you don't need to frantically wash up after each course! Remember, the evening is for you to enjoy as much as your guests. Maybe make a seating plan or put place names on the table.
4. Food and Drink
Choosing your menu is probably the biggest challenge. Remember to consider any food allergies your guests may have. Work out whether you'd rather have the food pretty much 100% prepared before your guests arrive giving you a chance to host, rather than being stuck in the kitchen. Do you want canapés and cocktails on arrival? If you have a theme for the evening, can you incorporate it into your food choices? Stock up on beer and wine. You know your guests, what do they usually like to drink? How many courses do you want to serve? Will you have cheese at the end of the meal?
Once you've answered all these questions, write out a cooking and preparation schedule to avoid anything being forgotten at your perfect dinner party! Another option is to get someone in to do the catering for you. If you are hiring a marquee and furniture from Event Marquees, how about asking us for some advice about the caterers we can highly recommend?
5. Entertainment and Enjoy!
So finally, decide on your entertainment. Choose some CDs, make a playlist for background music, or book some live musicians – it depends on your budget! Decide on any other forms of entertainment you want to arrange for your guests….fireworks, sparklers, maybe karaoke!
The main thing is to be relaxed and enjoy yourself – leave the clearing up until your visitors have left so that the evening feels stress-free and is remembered by everyone as having been the perfect dinner party.