Event Marquees has party Marquees for sale! If you are looking for the ideal marquee structure for all your party needs, then Event Marquees has everything that you will want.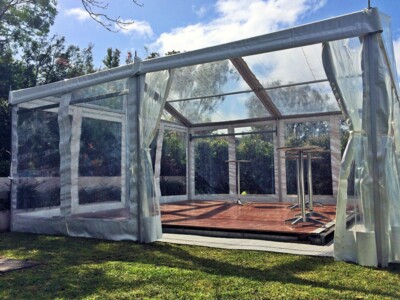 Benefits of our Party Marquees for Sale: Physical Facts
Top design quality and made from sturdy materials
Double coated PVC fabrics used which are flame resistant
Steel and aluminium frames for longevity and strength
Benefits of our Party Marquees for Sale: The Aesthetics
Variety of finishes for roofs, walls and floors
Great choice of sizes: pagodas, medium and large structures
Additional extendible bays available in different sizes and styles
Roofs, walls and floors...
We have transparent, white, silk or black roofs to choose from along with different wall panels - windows, arches, transparent etc..
The flooring options are great as well - we have wooden floors, artificial grass and pro-floor (clips together non-slip surface). All are made from very high-quality materials and are long lasting.
Why buy from Event Marquees?
At Event Marquees, we have an established and proven record of supplying high standard structures and equipment as well as excellent customer service. We can offer extensive and professional advice in answer to all your questions and concerns. Finally, we offer competitive rates and easy transactions.
We hope you enjoy your party planning and look forward to hearing from you when you are ready to buy your party marquee for sale!