Launching a new brand is vital to an emerging products' success. It is a crowded market place, so we are always looking at better ways for our clients to stand out.
Our recent client, One Green Bean, was planning an activation event for Colgate and came to us for a modern solution that would fulfil the following brief
Easily branded to their clients specification
Create a space that stands out to the distracted commuters
Can stand up against the frequent gusty winds that blow through the venue, Australia Square
This event was perfect for our brand new dome marquees. These striking marquees really stand out due to their modern shape, and can be cost-effectively and easily branded to specification.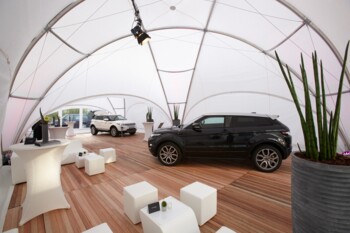 Dome Marquees Stand Out
This event was designed to get busy city commuter to stop and take a sample and learn more about the new Colgate product. Our supplied dome marquee really did the trick, with the activation event attracting a steady stream of interested people.
Did you know, that you can also put several dome marquees together like this to create a bigger space?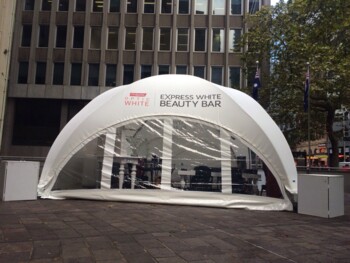 Custom Branded Marquee
For this job they were working under the strict corporate guidelines for Colgate, so it had to be spot on. We arranged the whole package including dome marquee hire, set-up and dismantle.
Plus the bespoke branding to go on the marquee, which includes project management with the printer, and ensuring its application to the dome marquee is perfect.
Dome Marquees onto any surface, most conditions
Dome marquees can go on pretty much any surface, like concrete tiles in this case. Event Marquees ensured the dome marquee was appropriately weighted to full safety and meet strict insurance requirements.
Event marquees branded marquees are the ideal solution for your next event - if you need to stand out, you need an Event Marquees branded dome marquee!