There is no "one size fits all" when it comes to hiring a marquee. Each event is unique and we try and customise the components to best suit your needs. So when it comes to the price, we can give you a basic idea upfront with no further information about your event (see below). As we get all the information on your requirements, our staff will happily provide you a more detailed quotation.
Freestanding marquee structures
Our most popular marquees are the freestanding marquee structures. The biggest determining factor for the cost of these is the number of guests you are expecting. The number of guests you have will determine the size of the marquee required and hence the cost of the structure used.
The freestanding marquees can cater for vast range of events and can fit anywhere between 50 - 300+ guests. The marquees are modular meaning they can be extended in size. So there is no event too big that we cannot cater for, other than in the unfortunate circumstance where we have been booked out.
It is also important to consider the style of event you are hosting as this also impacts on the space recommended per person. For example, a cocktail style birthday party requires less space than a sit down formal anniversary or a wedding with dance floor.
To get you started, Event Marquees have detailed basic recommendations on the size of the marquee structure required based on number of guests. These recommendations can be accessed via the Event Marquees homepage using the icons as pictured below. Each of these links will show you information, pictures and basic prices for the respective marquee size.

Other additional factors that can impact on the price of your marquee hire includes:
Small marquee structures
Event Marquees has a range of small marquees and gazebos for hire. These are perfect on their own for a small event or as market stalls. Alternatively they are commonly used in addition to the freestanding marquee structures to accommodate various services (e.g. a caterer's tent, changing room, storage area etc.).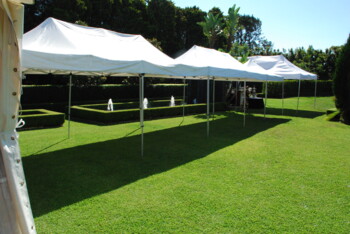 The small marquees are advertised on our website with the prices excluding delivery. A minimal fee is charged for delivery, set up and collection. Alternatively you can pick up and return the small marquees yourself.
Other additional costs may include:
Other potential costs to consider
There may be some additional costs that you should consider (external to Event Marquees). These may include:
Venue hire
Council applications and/or permits
Caterers
Drinks
Liquor licences (depending on function type)
Contact Event Marquees for more information
Once you have this basic idea on your requirements, your next best step is to contact us to discuss your this with one of our friendly and professional staff.
We always recommend our client's to book in the marquee as soon as possible to ensure this is reserved for your event. Booking in the smaller items (such as tables, chairs etc.) can be worked out closer to the event date.