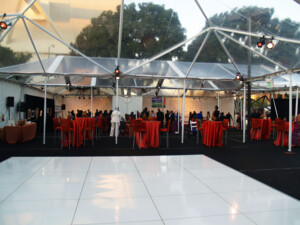 Hiring a dance floor for your event helps to create a great party space and ensures people have an excellent surface to dance on. We provide dance floor hire across the Sydney area and Hunter Valley and provide a full delivery and installation service.
We specialise in white dance floor, but can also provide you with a beautiful wooden floor.
The dance floor is finished with an aluminium edge which locks it all in and makes it safer for people who are entering and leaving the dance floor.
The dance floor is recommended to go on a firm surface like concrete, pavers, timber decks, tiles, floorboards and some carpets. It is not ideal for grass surfaces.

If you're after something a little more 'on-trend' our white dance floor is high quality floor in excellent condition and in high demand with a number of high profile event organisers and at prestigious venues across Sydney and Hunter Valley.
We are a company based on the northern beaches and are happy to advise what the best possible option for your event is. Enquire at info@eventmarquees.com.au.