A recent article in the Huffington post stated a case that if your wedding is kid-free - you should supply a babysitter. It of course erupted into a frenzy of comments on both sides - and sparked quite the social media storm. While we don't have opinion on the above debate, we do have some good ideas if you are including children at your wedding.
With a bit of thought you can have a wedding that will suit the adults and kids, here's some great tips from The Event Marquees team.
Communicate your intentions
To ensure your big day doesn't disappoint your guests with children make sure you are clear about your intentions (either way) as early as possible.
Even if you are having a kids zone (see below) make sure you detail what sort of babysitting will be provided so the parents can make up their own mind what to do.
It is also a good idea, to know the ages of the kids attending, as that will help you plan with the kids side of the wedding.
If you are having a child-free wedding, at a destination, you will need to provide some trusted options for babysitters or nannies.

Set up a Separate Area
It can be very tricky having a stress free wedding if you don't have a dedicated kids zone - ideally with a qualified babysitter(s). Kids will find a wedding quite boring otherwise.
Our Dome Marquees are a great options here, the kids love them! And won't want to leave and pester their parents!
Set up with comfy couches, floor cushions, a table with drawing and craft stuff, games, and a TV.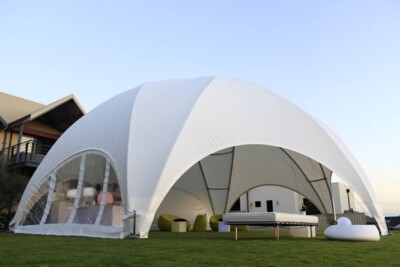 Entertainment
There are loads of options you can do here, depending on your budget. There are loads of kids entertainers from fairies to superheroes that will entertain the littlies. For 2 hours you are looking at around $350.
You could also hire some oversized games, these are fantastic as it allows the kids and adults to play together, until time to sit down for the wedding meal.
For later on you can't beat a movie. Make sure you look at the ages of the kids attending - the best bet is to probably stick to a G rating, so any of the popular Pixar movies will go down well with everyone.
Child Friendly Catering
Make sure you plan a kid friendly menu, something they will be happy to munch into.
Ask your caterer or a trusted friend who is a parent for suggestions here - but generally kids will like cheesy pasta, sandwiches, fruit - and chips and nuggets are always popular.
And the promise of ice cream dessert will ensure all parents have something to bargain with if they need!
For the kids menu it is safer to be nut free.
If you need any help planning your wedding, of incorporating children at your wedding, contact Event Marquees. We would love to help.