Twenty years ago only 43% of marriages were performed by a civil celebrant, in 2014 this figure was 74%! There are lots of reasons why couples choose this option, but one of best is that it provides so much flexibility in where you get married - and being so lucky with our weather in Australia, the great outdoors is perennially popular.
Here are some great tips and ideas to make sure your outdoor wedding ceremony is perfect.
Plan B
The last thing you need on your wedding day is to wake up to bad weather with no plan B. Make sure you have a firm plan of attack which includes when you need to make the call on the change, who will handle making new arrangements and how to communicate this to your guests. Consider a trusted friend to be your Plan B co-ordinator.
Even though it might not be your dream, if you have a good back-up plan it means you will still be comfortable and looking amazing instead of soggy and stressed!
Plan for the weather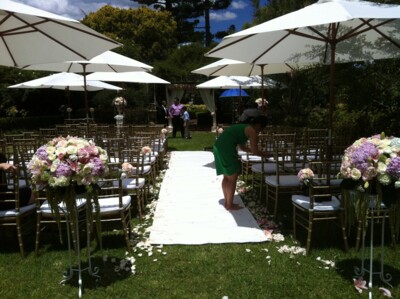 While it might seem romantic to be under the (hopefully) blue skies, it may not make for the most comfortable of ceremonies.
For warmer months consider a small marquee with completely open sides to provide full shade for your guests. At the very least provide some large umbrellas, and your guests will really appreciate water being available. Sunscreen is also a good idea.
For cooler months, you might want consider some outdoor heaters, to take away some of the chill.
Also it's a good idea to mention on your invitation or website that the ceremony is outdoors, so that your guests can plan - they may want to bring a hat or coat.
Make your Guests Comfortable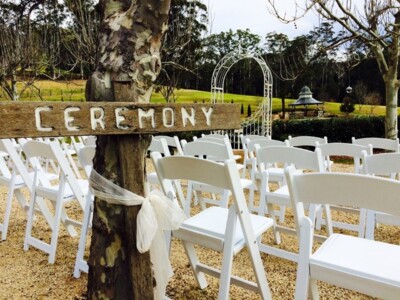 While it might not seem necessary your guests will really appreciate somewhere to sit. Quite often wedding guests are at the ceremony for 2 hours or more and that's a long time to stand for most. This could be traditional white chairs, modern Tiffany Chairs or perhaps a combination of comfy ottomans and chairs. We see a lot of ceremonies where they only provide a handful of chairs - so most guests need to stand, so plan a seat for everyone.
If there are no toilets at your ceremony venue, you really should provide a port-a-loo, if there are small children or older folk - this is a must.
A comfortable guest is a happy guest!