This year Valentine's Day falls on a Sunday, so it opens a whole host of new possibilities, being a non-work day for most. Yes you can go to a crowded restaurant, for an expensive meal - or instead you can get creative and create your own unique pop-up Valentine's Day!
Here are some great ideas for couples, engagement surprise or a friend's non-valentines party!
Turn your home into the perfect venue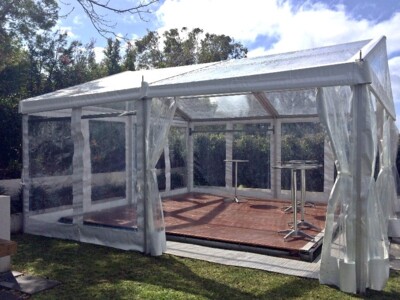 Over the Valentine's Day restaurant rush? Try this instead! Create an intimate and special Valentine's Day at home that is sure to impress your other half - and is so easy for you.
Transform any outdoor space with a pop-up marquee and get creative! Here are 2 ideas to get you started.
Foodies? Make a tea for 2, with a beautiful dinner service, table and chairs with high quality linen, crockery and glassware. And her most loved flowers. Either whip up her favourite meals, or make it easy and enlist a caterer to drop off your preferred menu.
A trip down memory lane. Set-up with some comfy couches, mood lighting and a big screen. Create a slideshow of your favourite memories and snuggle in for a romantic viewing. Or even a movie that has significant meaning to you both. Just add in some delicious nibbles and tipple of your choice.
Create the perfect engagement surprise
If you are feeling the pressure to come up with a unique and extraordinary engagement consider this great idea. All you need is a small space, grass is perfect, but we can assist with whatever surface you have at your house.
Create a stunning romantic backdrop with a dome marquee, and style it with large cushions, a low table and fresh flowers (take inspiration from The Bachelor/ Bachelorette dates) finish it with mood lighting, such as fairy lights or modern lanterns.
If the weather is good, open the sides and create a stunning entrance path with rose petals.
Add in the catering of your choice - lots of caterers offer a drop-off picnic style meal that would suit perfectly. Don't forget some nice bubbles and some ambient music.
She (or He) is sure to say yes! And have an astonishing engagement story to tell everyone.
Throw a party instead!
Valentine's Day is not for everyone, so why not have an anti-valentine's day party with your friends (single or coupled up), before summer retreats.
Grab a couple of 3x3 pop-up marquees, a wooden floor and an AV system. Get everyone to load their favourite tunes on their devices and simply insert into our clever AV systems to get the party started.
Add in some bar tables and chairs, and some lights if you are planning to keep things swinging after dark. It will make a memorable and fun day instead of one that some may dread.
You could get everyone to bring a pot luck dish to make it easy.
Event Marquees are the Event Specialists so get in touch if you need help to build your perfect event, big or small.