Here at Event Marquees we are happy to admit being a teeny bit obsessed with the fabulous British bake-off, so when this series came to Australia we were delighted. But when Event Marquees was asked to be the marquee supplier for the Great Australian Bake Off - it officially became our favourite VIP event to date.
Here is the run-down of Event Marquees at The Great Australian Bake Off;
Perfect Ingredients
Being a highly rating show, the whole set-up had to be flawless. We know that our marquees and other accessories are the best quality and are thoroughly checked prior to event deployment.
We supplied a 15m x 15m marquee, which is usually used for a large events, 200 plus people - but is perfect for the extensive set-up that the bake off requires.
Being a strong clear-span marquee, it was up to the task when they came to hanging the lights and other AV equipment that it takes to make a TV show.
We also supplied the Wooden Flooring and perennial favourite white picket fence.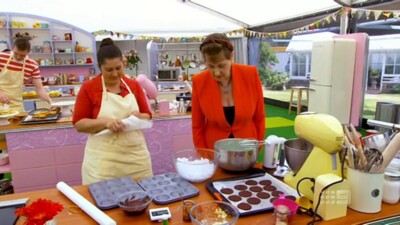 Strict Bake Time
The production schedule was extremely tight, and had a myriad of other suppliers involved. Like all our jobs, not just the VIP ones - we were there when they requested, and erected the marquee in the time they had. While it was a tight schedule, our experienced team know their stuff, so it was no issue. Rain or shine your event marquee will be up and ready on time, every time.
Remain Risen
The series takes 6 weeks to film, so the production house had to have absolute confidence that the supplied marquee would stay put and perfect for the entire film time. That's why the production house looked for a seasoned professional.
We have been doing marquee hire for over 10 years, so we know what you need to do to ensure you don't have any issues, whatever the weather.
Our work included maintenance work after a particularly nasty Sydney storm.
Repeat Performance
We are over the moon that we have been invited back for as the Great Australian Bake Off Marquee Supplier 2016. We have to supply exactly the same marquee and accessories, so it looks identical to 2015. Our marquees are quality to start with, and are scrupulously maintained so they always look brand new.
We love being the Great Australian Bake Off marquee supplier and we can't wait to go back to in 2016.