At Event Marquees, we love all things wedding - and will admit an indulgence in TV gold, Don't Tell the bride. This is where one hapless bride, gives over all control to her husband to be. They try very hard ( mostly) but often with mixed results. Here are our top tips to ensure your wedding is something you don't tell about!
Budget
The poor grooms on Don't Tell the Bride have a tough time with the budget. Spending big in all the wrong places.
Make sure in the initial stages of planning you allocate your budget according to what's important to you. Be honest about what's vital and what maybe would be nice if you manage to save more. It's a good idea to get the big expenses sorted out first before moving onto detail - so reception, dress, food and beverages.
Then think about what sort of wedding you would like and how many guests you would like? Does this match up with your budget?
Check out approximate costs here for:

Then move onto a firm budget for your dress, including allocation in case you fall in love with THE dress!!
There are so many options for food and beverages these days, so make sure you look beyond the traditional sit down dinner.
And no blowing half your budget on the bucks' weekend will probably not make you popular!
Seating
It may seem simple, but having enough seating for all your guests, can be the difference between happy and grumbling wedding!
For the ceremony, while the actual ceremony may only take 20 minutes, the time people are at your wedding venue can be well over an hour, so seating is a must. There are lots of options available, but these are the current wedding ceremony chair favourite.
For the reception even if you have a sit down dinner consider some other seating zones, that encourage interaction between your guests.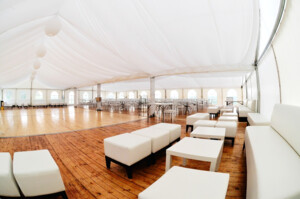 Here are some ideas;
Bar area with bar stool
Chill out zone with low ottomans and coffee tables
Outdoor lounge with modern furniture and plants in pots
Weather-Proof
We are so lucky in Australia with our weather, but it's unpredictable - As I write this article (in Sydney) it is nearly Winter and going to be 24 degrees! So you need to make sure you have the right options.
For most seasons provide umbrellas for shade in your outdoor areas, and don't forget the ceremony! A ceremony without shade can be at best uncomfortable, and worst could mean some guests develop sunstroke. And a great idea is to provide water right from when guests arrive.
For the reception, our marquees are easy to open and close as you need, but we highly recommend heaters for all but Summer and shade for your outdoor areas.
Have Fun
Last top tip from Event Marquees, is to not sweat the small stuff. Your wedding is meant to be a day to remember and fun for all, especially the happy couple. So if things don't go exactly to plan, - roll with it! If you have planned it well, all the big stuff will be in place and the little hiccups will add to the character of the wedding.
Happy Wedding Planning from the team at Event Marquees.