Australia is truly multi-cultural and Event Marquees have been lucky enough to see some diverse weddings across many different cultures. One of our favourites, for its colour, and tradition is a Hindu wedding in a Marquee.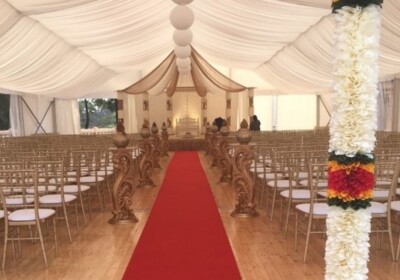 Marquee for all Festivities
Unlike a western wedding a Hindu wedding is festival held over several days.
Usually made up of:
Thursday with a informal get-together with friends and family
pre-wedding religious ceremonies on the Friday morning
Wedding rehearsals Friday evening
Wedding and reception Saturday
Sunday after-event
That is a lot of event in a small space of time, but by having it all in your dedicated wedding marquee you can manage it all seamlessly, while tweaking the set-up to suit the occasion. And it's highly cost-effective!
You can simply select different furniture and create varying layouts for informal dinner to the main event. And it makes the rehearsals so much easier.
Hindu Wedding Marquee Set-Up
There are lots of different ways to decorate your Hindu wedding marquee - but here is a recent one, that features;
Gold Tiffany Chairs
White Silk Lining
Large white lanterns
Gold drapes to frame where the Mandap Long red carpet over wooden flooring
Flower pillars
Get in touch with Event Marquees for your exact requirements - we would love to help!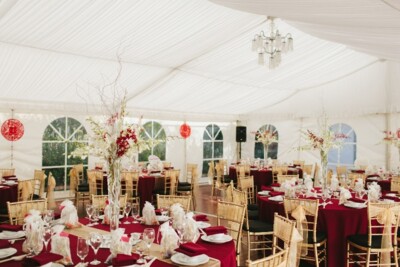 Extras you May Need
Quite often the Hindu wedding has a large guest list so you may benefit from including AV equipment so everyone can hear the ceremony.
We can also assist with the catering equipment you may need if planning a traditional buffet banquet.
We also can recommend our new white dance floors - perfect for the modern Hindu wedding!
Hindu Wedding Marquee Specialists
We love weddings in all their different guises, and would love to help plan your perfect Hindu wedding in a marquee.