We all want a unique location for our special event, somewhere that we can create an event that no-one else has seen. Your dream venue maybe easier to find than you think - perhaps located in your, a relative or friends backyard! The humble tennis court is a perfect event location - here's why.
They Look Great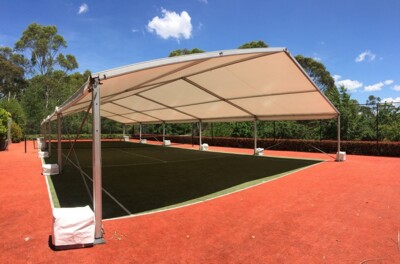 Adding a marquee to a tennis court creates a striking space. From here you can transform them into any style.
By the time we have finished styling your marquee your guests won't even know they are on a tennis court!
Here are some modern ideas for
The Perfect Size

A marquee on a tennis court is the right size, big enough for events up to 300 people, but with a cosy feel to ensure a delightful event feel.
Allowing complete flexibility for set-up you can transform your marquee on a tennis court to anything from sit-down dinner, to a party with large dancefloor.
Dramatic Entrances
Most tennis courts lend themselves to creating exciting entrances, such a tunnels with fairy lights or classic red carpet. This makes an amazing wow factor from the moment your guests arrive!
All weather Event
Tennis courts are generally very well drained, so even if it pours you have a comfortable event.
For warmer months we recommend keeping the sides open to create marquee open then if it's cooler in the evening the clears walls can be pulled back.
High Heel Friendly
There is nothing worse than your guests sinking in their high heels - but with a tennis court you have a ready-made hard surface, which will make everyone comfortable.
Weddings, Parties, Anything….
A marquee tennis court event is perfect for any sort of event;
Weddings | Unique venue, that you can make your own

Parties | Create your perfect party space including dancefloors and chill out zones

Kids Parties | Entertain the kids with party lunch under the marquee, then add in active games or hire a performer
Most tennis courts are ideal but we need to come for a no obligation visit to check that your venue is suitable. If you would like us to arrange this please contact Event Marquees today.