Brisbane brides to be! Congratulations on your engagement, now the exciting wedding planning begins. If your dream day needs a marquee, you need Event Marquees! Read on for some great examples of wedding marquee hire Brisbane that are sure to get you excited.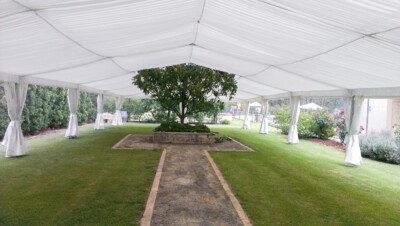 Garden Wedding Marquee Hire Brisbane
Does your dream wedding location have a large garden? Use this exquisite example as inspiration to create a unique space that will be as romantic as it is functional.
We utilised a 10m x 25m wedding marquee with our luminescent white silk lining to create this dreamy space. For this event the garden path provided a natural aisle for the bridal party, however if your space doesn't have this we can make an aisle using our white dance floor or red carpet.
For this example it was a large wedding of 180 - 200 people, however it is also a stunning set-up for a corporate event or cocktail party.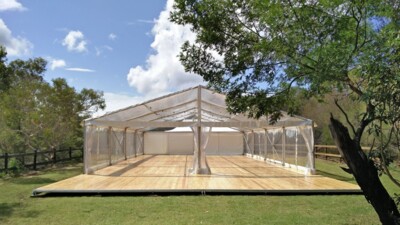 Clear Marquee Wedding Hire Brisbane
Get ready to impress your guests with this next wedding marquee hire Brisbane example. This marquee set-up boasts all clear sides and roof with a generous amount of delicate fairy lights strewn throughout the roof structure. As the day turns into night your fairy lights with clear roof make you feel like you are truly under the stars. If you want a romantic wedding set-up - this is the pinnacle!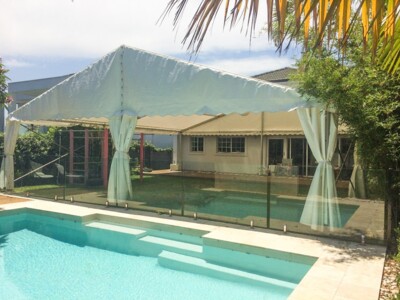 Wedding Marquee over a Pool
It is estimated that over 60% of Brisbane homes have a pool, so why not turn yours into a unique wedding venue that will get everyone talking.
We can either erect a marquee next to the pool to create a calming waterfront position, with open sides to allow your guests to take in the view.
But did you know we can even put the marquee over the pool! Imagine dancing over the water on your wedding day!
If you need wedding marquee hire in Brisbane - trust Event Marquees. We have been in operation for over 20 years, and we opened our dedicated Queensland operation in 2016, servicing Brisbane, Gold Coast, Sunshine Coast and Northeast Queensland. Event Marquees can also assist with event and furniture hire.
Happy Wedding Planning!