Did you know that you can erect a marquee adjoining an existing structure? Here are some amazing examples of how using a marquee beside an existing structure have saved the day or provided a better solution.
Give me Shelter
We recently we asked to assist with a large party at a private residence. Our main job was providing the stunning marquee and event set-up in their tennis court. However as the important day drew new the weather forecasts were predicting rain. The hosts we extremely worried that the guests would be soaked before entering the residence - and had no idea there was a straightforward solution.
Event Marquees to the rescue!
In this example we erected the marquee alongside the main house structure, covering a 20 metre stretch of driveway. This allowed ample space for cars to pull in and guests to alight, all without the worry of a drop of rain.
With its clear roof and the addition of pretty lanterns, it provided a stunning and dramatic entrance, instead of a soggy start.

Extend my Useable Space

Marquees make spaces - and can transform your outdoor space to be usable whatever the weather. This lovely client was wondering if we could make their courtyard into a party space - they were concerned that it would be impossible so close to their house. It was extremely possible for the Event Marquees team!
With our flexible marquee sizes, were were able to supply and erect a marquee next to their house providing the perfect party pad. This made it easy for them to organise catering from their indoor kitchen, as well as allow them to utilise their existing toilet facilities.
Event Marquees also supplied heating, lighting and our funky black & white furniture range.
Remember that Event Marquees can erect a marquee on any surface;
Tiles
Grass
Tennis Court
Swimming Pool (yes really)
Annexe or Courtyard
Beaches
Carpark
Create Storage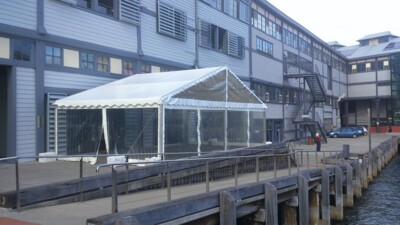 For this example at the iconic Woolloomooloo Wharf, this long-term client of Event Marquees were running a series of events over the week. All the event furniture had to be packed down and stored every night - thus creating a big problem. Their only storage option was 100m away!
Thankfully Event Marquees had the solution.
We erected the marquee beside the event space and created a temporary storage facility - that worked a treat. It was so easy for their team to access the space. No need to run 100m every time they needed something, it was right beside them. Plus it made pack down each night a breeze instead of a massive headache.
Talk to Event Marquees today about how we can help transform your space - whatever functionality you need.