Happy New Year from all at Event Marquees!
It's been a busy Summer for us, with many beautiful weddings, unique events and planning for the upcoming corporate event season. So what's hip and happening for 2018?
Completely Clear Marquees
Clear Marquees let the ambiance in with all clear roof and sides and are one of our most popular marquees!
Event Marquees can now offer clear marquees in sizes 30 metres and more.
Until recently you were restricted in options for marquee sizes if you wanted to go completely clear. Not anymore! We scoured the globe for the best quality large clear marquees and now can supply beautiful clear marquees in large to huge!
READ MORE - Introducing Large Clear Marquees | Clear Marqueee Hire
Rustic
Rustic weddings are the hottest wedding trend right now, with their popularity rubbing off into corporate events. If you are thinking rustic, you need a marquee. Rustic is all about the natural environment - whether it be a park, country field, farm or garden ...a marquee allows you to blend your event into its natural backdrop.
Event Marquees new offers for rustic weddings or event must-haves!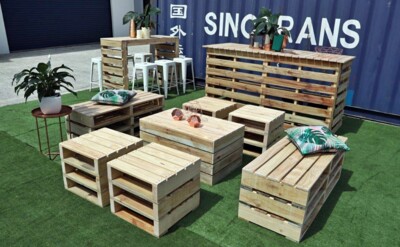 New! Pallet Furniture - We offer a full range of pallet furniture for sale and for hire including bars, bench seats, coffee tables, pod seats and high tables!
We also offer custom made pallet furniture for your unique event requirements - get in touch with the Event Marquees team.
See our range of Pallet Furniture Hire here.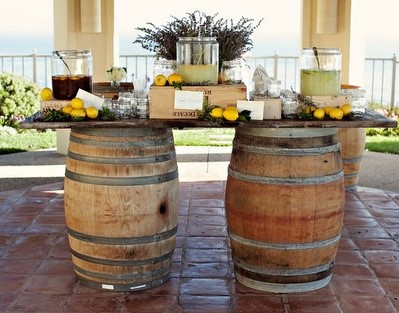 New ! Wine Barrels - Rustic wine barrels look bang on trend and provide great functionality for a bar area, cocktails or as tables.
We offer both wine barrels and wine barrel bars.
Compliment your rustic look with Event Marquee perennial furniture faves - artificial grass, teak umbrellas with lanterns or chandeliers.
Visit our Wine Barrel site here.
Unique Spaces
Eventbrite, The leading event management online software reports for its 2018 top trend
"Unique Venues - No real surprise here – booking a hotel or conference centre is no longer enough. Making do with mediocre won't excite anyone. The wow factor starts with the venue and an unusual setting immediately makes a statement and helps to create a fantastic experience."
It is something here at Event Marquees we get asked every day by Event Planners, Corporates and brides - I must have a unique space - can you help?
That's one of the best things about having a marquee, you can truly make a space unique - combining its location and fit out.
Event Marquees can guide you with locations that will be perfect for your event or wedding - with many you may not have been aware of.
Choosing a marquee gives you a blank canvas for your furniture and styling fit out - so anything is possible!
2018 will be an exciting year - we look forward to assisting you with your events!