Here at Event Marquees, we love bringing you the latest of must-have event items - and this week is no different. We know you want your event to be individual and you want it to be easy - voila - introducing the brand new Customised Curved Bar.
Perfect for Corporate events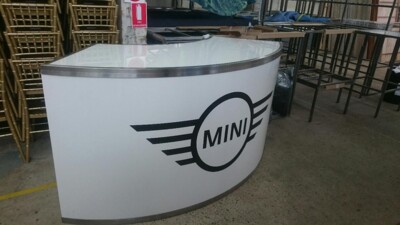 As you can see for our example (Go MINI) these spectacular looking bars are ideal for corporate events, as it is such a striking way to display your brand.
These are perfect for
Product Launch
Company update
Christmas Party
Team Building Event (consider adding your company tenements to the display)
How do I customise these bars?
You are only limited by your imagination (and perhaps your graphic design skills - but we can help with this too) with what you can display on your curved bar. We provide the artwork specifications and you can get creative. We then organise the print and installation, and you have a completely unique event centrepiece.
Make your private event individual
These new bars offer a great way of putting your individual stamp on your event.
Here are just some ideas to get you started;
21st - Perhaps you have been saving that cute but embarrassing baby photo for years? Now is the time to bring it out and display it on your custom curved bar. It will be a fantastic talking point and a great place to do the speeches
Big Zero Birthday - Consider a photo collage, these look incredible and provide some entertainment while people wait for their drink or reminisce with their friend - think of it like a party photo album.
Christening - This special event would be complemented by artwork that displays the new baby's name, birth day and perhaps godparents.
Wedding - You couldn't get more perfect accessory for your wedding - consider combining some ideas above. Such as the bride and groom (or groom/groom, bride/bride) name, the wedding date and then either some other elements that tie in the overall wedding theme, or an engagement photo of the happy couple.
Don't Miss Out - Secure you bespoke bar now !