Discovering new awesome locations is something the Event Marquees team love doing. And throw in a tricky location - challenge accepted! You might be surprised what the Event Marquees team can do - even in the trickiest of locations. Difficult access, sloping or uneven surfaces, islands and even over a pool. Once transformed, an unworkable area turns into an extraordinary event space.
Rainforest Perfection

Look at this finished result! It created an exquisite venue for the launch of a new resort. It's hard to believe that a patch of rainforest could became an undercover seated area for over 70 people. This was a tight set-up with difficult access but was transformed into a unique space.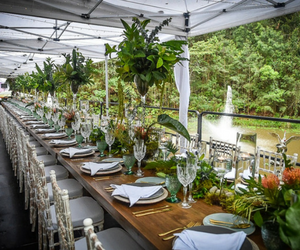 The small marquees framed the event area, whilst providing shelter from the sun and forecasted rain. The minimally intrusive coverage allowed guests to absorb the best aspects - taking in the lush rainforest and lake views.
We complemented the look with our new divine lime-wash Tiffany Chairs. This event was carefully crafted by our wonderful friends at Sugar & Spice events who also added in the finishing touches with gorgeous floral arrangements and other table styling.
As the guests walked down the tiki torch lit path, they were completely wowed by the pop-up event space that emerged from rainforest bushtrack.
Over the Pool
This recent job was a pleading request - can you put a marquee over the pool to make the most of the view? Is this even possible? Add in another tricky site with access challenges including stairs and side footpath only - what could we do?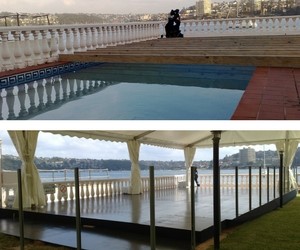 Event Marquees has done lots of over-pool marquees and can assist transform your pool space into the perfect party space! A lot of the time a backyard pool takes up most of the usable space. However, we can transform area into usable and ideal event space.
We were able to create this amazing harbourside marquee by building a level platform over the pool. This was then completed with our high gloss wooden flooring. Once the secure base was in place, we then erected the marquee space. As with all our marquees, the sides can be left open or closed - they are easily maneuvered so you can leave them open and absorb the maximum beauty, but have the option to close in the sides should the weather suddenly turn.
Levelling
Not many locations have a simple level space - that's why over the 20 plus years as marquee specialists we have become experts at levelling. From minor fixes to major slopes requiring separate structures - Event Marquees are able to deliver the stunning marquee for your next event.
With Event Marquees having the ability to level a large range of surfaces, it opens up new locations that can be made into new event spaces. More & more people want a unique event - so if you had a space that you thought was unusable due to a slope - think again and get in touch with Event Marquees.
Look at these recent examples;


Event Marquees Crew Travel Near & far ( even Islands!)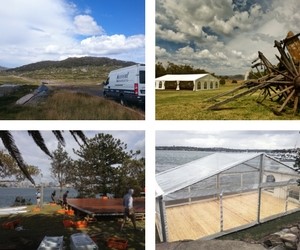 Don't forget that the Event Marquees team travels all-over New South Wales, the ACT and Queensland.
Here are some amazing shots showing various deliveries including the beautiful Snowy Mountains, and the stunning Shark Island in Sydney Harbour.
Chat to the Event Marquees team for new locations for your events. If you have a location in mind but thought it might not work - talk to the experienced Event Marquees team for their experienced advice and recommendations.