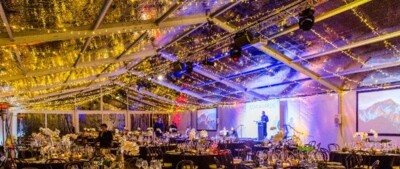 We love Clear Marquees and so do our clients! Therefore we are ecstatic to announce, now in stock to hire ( or to buy) are large to huge
All Clear Marquees.
Event Marquees now offer clear marquees in sizes 30 metres and more.
These new marquees definitely make a statement, and are very popular so make sure you book early!
New Large Clear Marquees Sizes
Our all Clear Marquees are now available in a range of widths ( 6m, 8m, 10m, 15m) up to a massive variety in lengths (30m, 60m and 100m) depending on the width chosen.
We will help you ascertain the perfect size of marquee for your event - so please get in touch!
Common, standard large clear marquees sizes are: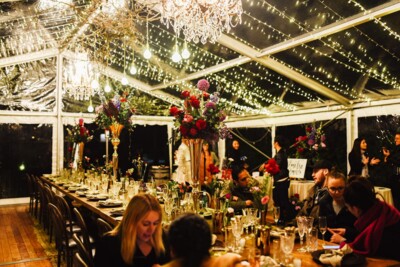 8m wide x up to 30m
10m wide x up to 100m
15m wide x up to 60m
However please get in touch with the Event Marquees team should you require a bigger size - we can help configure a layout with a range of sizes that will suit your needs!
Our marquees are modular and come with lengths of a minimum of 3 or 5 metres, then going up in 3 or 5 metre increments.
Large Clear Marquees are available to hire in NSW, QLD and ACT both short-term and long term, as well as to buy (Australia-wide, New Zealand, Pacific Nations and beyond). There are some stunning clear marquee locations in Sydney, Hunter Valley, Byron Bay, Gold Coast, Brisbane and Canberra.
Large Clear Marquees Use Examples
Being all clear gives your event more visibility and may assist with taking your event to the next level.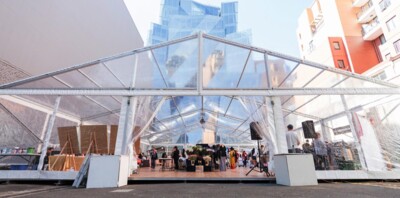 Weatherproof marketplace that attracts passing people
Versatile and waterproof sporting venue that draws in a crowd
A wedding fave that lets the natural surroundings in during the day then makes lighting and the stars pop at night
A stunning winter option that allows you to enjoy the natural beauty of the location without being exposed to the extremities of the cooler weather
Note: The option to utilise a white marquee may be preferable in hot conditions. It is important to consider the time of year, time of day and positioning of the marquee when considering if a clear marquee is the right option for your event.
Large Clear Marquees Accessories
Event Marquees offer the full range of marquee accessories. Popular clear marquee accessories include:
Mass Fairy Lights over the roof and or sides
Festoon Lights running the length of the marquee or in a pattern
Romantic Chandeliers or on-trend Lanterns
Tiffany Chairs - available in 4 colours
Pristine White Picket Fence paired with high-quality Artificial Grass
Modern White Dance Floor or traditional high gloss wood
Black or White Ottomans or rustic pallet furniture
Large Clear Marquees Styling Ideas

Clear Marquees are amazing to style. So ideas that are on trend right now include:
Large grand greenery displays from the roof and on tables with wooden or artificial grass floor and New! Wine Barrels
Bold mass colour floral arrangements
Roof lined with fairy lights and festoon lights for the ceiling
Roof Fairy lights paired with feature lighting piece and chandeliers
Event Marquees is delighted to offer these new Large Clear Marquees for hire and/or sale! They are proving very popular so we encourage you to book or enquire now!