We love Oktoberfest! What's not to adore - fun, music, kitch dress-ups and yes beer!
For us too it heralds the start of the outdoor events season - our fave time of year.
Event Marquees were thrilled to be part of the Munich Brauhaus Oktoberfest Sunday Sesh Street Festivals in both South Bank Brisbane, and The Rocks Sydney - that featured our brand new beer table sets, marquee frame and picket fence. Our new beer table sets are a European staple, seen in every pub and venue, and the Event Marquees team are thrilled to launch a similar product in Australia.
Read on for other great ideas to make your space perfect for Oktoberfest or just for October.
New! Our Beer Table Sets take centre stage.
Beer table sets are an European must-have - seen across the continent in every pub and they have finally landed in Australia - thanks to our talented Event Marquees team.
This all-in-one table and seat solution are made from 100% Australian wood sourced locally for use in the event and hospitality industry with strong steel parts powder coated with black colour.
They are perfect for use both indoors and outdoors. Easy up and down, they can be handled by one person and even fold up flat for perfect transport and storage.
Beer table sets are ideal as a pop-up solution if you are having a special event, or have them on hand if you suddenly have a crowd and need extra eating/ drinking space.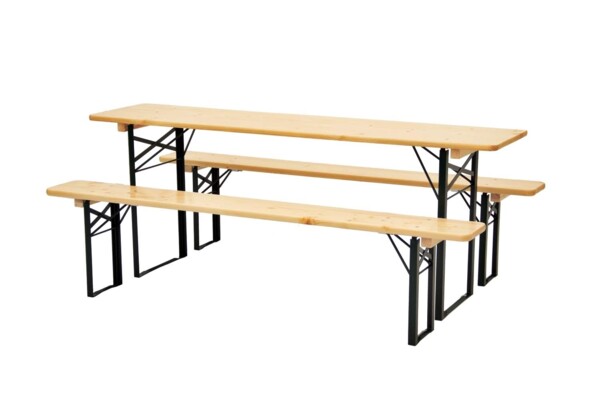 There could be no more fitting debut for our beer set tables than Oktoberfest! A lot of beer was drank (and split) but our hardy beer table sets stand up to the task. Now they are back at Event Marquees HQ, they have received a scrupulous clean before heading off to their next gig.
Marquee Frame
The Oktoberfest venues utilised an Event Marquees marquee frame to define the street party space, plus providing a skeleton to allow theming.
It was styled with Bavarian blue and white roof lining and fun ribbon centerpieces. Finished with dramatic greenery arch it looked amazing and like you had stumbled into a Bavarian back street party.
The marquee frame also allowed for some weather insurance, as if the weather did turn bad we could add in the sides and roof to give some weather protection.

Picket Fence
The event space was finished with our ever-popular picket fence. The classic picket fence is perfect for the theme and looks fab.
The picket fence provided vital crowd control - it was a clear border for where the guests could go and allowed the security staff to adjust the entrance width dependent on the waiting throng of thirsty revelers wanting to join the celebrations.
Other Oktoberfest Essentials
If you are decking your site out for Oktoberfest here are some other awesome hire items to consider;
Pallet Furniture
Our pallet furniture range is ideal for Oktoberfest and can be used outdoors or indoors. It can transform any space into a ready made pop-up Oktoberfest venue, and is so easy to theme.
Bar & Back Bar - essential for the beer part of Oktoberfest! Serve up your brews from our pallet bars with handy back bars to store all your essentials.
Food & Market Stall - serve up your Bavarian treats from our brand new Pallet Furniture Food Stall. It features 3 blackboards so you can clearly advertise your tasty morsels. Add in a back bar to provide more functional space.
Pallet Seating - Add in all the seating you require with our range of pallet seats including pod seats, bench seats, or if you require some height bar tables with stools.