Event Marquees has been providing wedding marquee hire for over 15 years. We have helped to make many wedding ceremonies and receptions unforgettable. Based on our years of experience we have put together 3 months until wedding checklist. Helping you to get organised for your special day.
Unexpected Weather Contingencies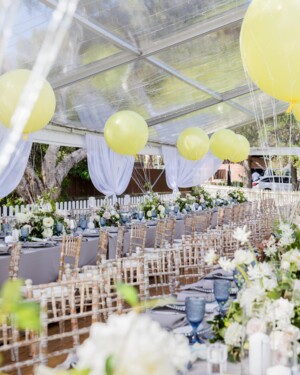 You need to plan for unexpected weather now. Otherwise, if it's looking inclement the week before you are going to be a ball of stress. Here are some of our solutions depending on the weather that you can book in now;
Rain - Our wedding marquees are weatherproof. The floor and roof of your marquee will be moisture proof. If you have decided to have your ceremony at your favourite beach or park we can provide a marquee to keep everyone dry.
Cold - We can organise large gas heaters to hire along with your wedding marquee hire.
Hot - Open marquee sides can help to cool down the marquee when it's hot outside. We also have a range of pedestal fans which will help circulate the air and also our teak umbrellas are a great option for an outdoor pre-dinner drinks.
Windy - There is no risk of your marquee ending up in your neighbour's backyard. Our professional set up team will ensure that your marquee is safely secured.
We can't control the weather but we can ensure that it does not affect the climate inside your wedding marquee hire.
Wedding cake
Now is a great time for you and your partner to spend some time cake tasting. You may have someone in mind or we are happy to suggest to you some options. After 15 years in the business we have many contacts who work to the same exacting standards as Event Marquees. To get some inspiration why not read about the hottest trends in wedding cakes.
Invitations
Now is the time to arrange invitations and send them out. Bespoke invitations can take a couple of weeks from order to delivery. Get in touch with all your guests to get up-to-date address details. Canva is an awesome online design and print option that anyone can use.
Hair and Makeup
Make-up artists and stylists can be booked up very early. So if you haven't already now is a good time to book your preferred professionals. Don't forget to do a make-up and hair trial a few weeks before the wedding.
Event Marquees have had the privilege to take part in a large number of weddings spanning right across the east coast of Australia. Over the years, we have set up many wedding marquees and event equipment at some spectacular locations in Sydney, Brisbane, Gold Coast, Canberra, Blue Mountains, Bowral, Hunter Valley and more! We are excited to have received new bookings for upcoming events in Melbourne and its surrounds. We will be better equipped to service this beautiful area with the addition of our new Melbourne branch opening soon!
Our team at Event Marquees is experienced at working with event planners and wedding organisers. Our main aim is to ensure your special day is memorable and hassle free. Why not call us today to discuss any questions you may have about your wedding marquee hire.