Event Marquees were delighted to support this important cause. This sold out event continues to raise awareness and funds for the Mater Foundations' ovarian cancer research.
Thank you for the great testimonial!
It's always fantastic to hear back from our happy clients. We were thrilled to get this feedback, from Cocktails for a Cure Event Manager Edwina.
"I just wanted to thank you for your services and supplying us with such great quality marquees. They were perfect for our event and complimented the aviation hangar so well. Also, please pass on my thanks to your team of men who set up and dismantled. They were lovely and all worked so well together. "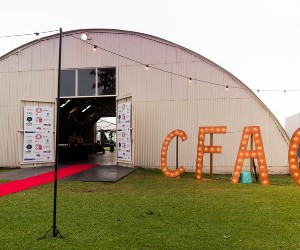 Transforming an aviation hangar
Event Marquees has done events in all kinds of places - over pools, tennis courts, rainforests, you name it, we have put a marquee on it! So when Cocktails for a Cure enquired about transforming an aircraft hangar in their perfect event space we were up to the challenge.
We have over 20 years of experience, so if you have a space in mind, but you are not sure if it will work for event, get in touch with our helpful team.
VIP Entrance
First step to the transformation was creating an entrance worthy of the wonderful guests who are supporting this important charity.
We supplied a plush long red carpet for that VIP feel that was paired with festoon lights that lit up the entranceway making it both safe and exciting for the guests!
Top tip! When looking for a venue, think beyond the ordinary, like this example. Get in touch with our helpful team for some marquee location ideas.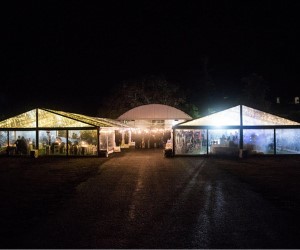 Hidden Surprise.
We located the Marquees at the rear of the aviation hangar, so on arrival the guests couldn't see the whole event space.
The guests surprise and delight on discovering the stunning marquee set-up was definitely to the desired brief from our lovely client.
We supplied two 10 metre wide by 25 metre long all clear marquees. They utilised one for the sit down dinner and the other for the dancefloor, stage and all important fundraising activities.
Winter Events Lighting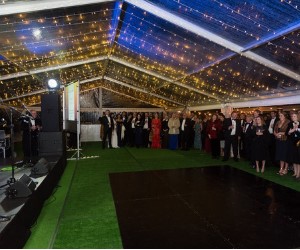 They made the most of their inaugural Winter event and went big with the lighting.
The event was timed perfectly, commencing at 5pm, as the sun went down and the lights came on. The marquees featured mass fairy lights that lined the clear roof and twinkled all night long - simply stunning!
From the entrance, with the guiding festoon lights, to the fairy light feature in the marquees the event was a lighting Winter winner.
Congratulations Cocktail for a Cure for such a successful event, we were thrilled to be a part of it.
Photo Credits : Matt from MRP Images