We have recently seen the idea of a garden wedding marquee becoming very popular. As wedding marquee specialists we have seen hundreds of beautiful garden weddings and have compiled some of the best ideas.
Garden Wedding Ideas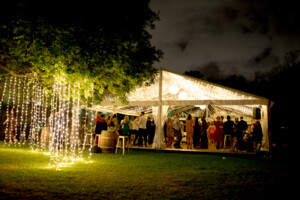 Here are some more ideas to consider when planning your garden wedding:
Hanging fairy lights from trees for lighting.

Pedestals with urns filled with garden flowers and scatter petals down the aisle

Strong use of ivy and foliage with accented flowers around your wedding arch and/or tables.

Ribbon streamers or cascades of orchids falling from branches or trees.

Weather permitting, keep the sides of your marquee up to include your surroundings within your space.

Hang pompoms of flowers from the roof of your marquee.

Include fairy lights within your decorations so that as the evening continues, your garden lights up.

Wrap fairy lights around any large trees.

Use wooden or garden-like furniture for your guests to sit on.

Provide blankets or wraps if it's going to be chilly or breezy.

Attach bouquets of lavender to the chairs in the aisle to add both colour and a beautiful perfume.

Garden Wedding Flower Suggestions
Flowers are the key ingredient to designing a garden wedding as well as the choice and style of the furniture you use.
Often the marriage ceremony takes place under a wedding arch decorated with a mass of flowers, and the reception marquee feels like a continuation of the garden outside. Most of these weddings take place at a lawn location and the grass plays a leading role in setting the scene.
Garden Wedding Marquees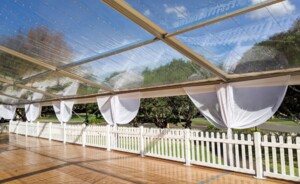 Alternatively, if you are holding your wedding in the warmer months, a garden marquee with a white roof, and no walls (or retractable walls) allows the scent of flowers and a breeze to float through the covered marquee area.
Although not a traditional wedding, the use of white furniture and accessories such as picket fences or bird cages, lends to the customary wedding as well as creating a romantic atmosphere.