Putting a marquee over a pool can open up a range of new usage. Whether you are using it to simply provide a stylish semi-permanent cover over you pool or to use a floor and marquee to extend your event space, chat to the experienced Event Marquees team about you requirements for a Marquee over Pool.
The Ultimate pool cover
It really doesn't get better than this! What a wow wow wow space, that extends the usability of the pool , as well as keep leaves and weather out. This was a custom marquee size job, as each bay was needed to be a different size. It was capped off with stunning glass double-doors at each end. This type of set-up also works well over a car spot to create an enclosed event or storage space.

Usually we have a solid floor to lay pieces out as we erect the marquee. So with a pool underfoot it was a new challenge for us. The ingenious event marquees team ( the same carpenters who make our amazing pallet furniture range) knocked up a special bridge to act as our base. Guess how many times the team fell into the pool!
As this was a semi-permanent structure we used dynabolts into the tiles to secure the marquee, whatever the weather. Event Marquees had the expertise to professionally install this special base without the need to call in an outside contractor
Pool falls = 2 ( But it was a hot day so not a terrible outcome).

Create a unique Event space
This example was created in a private residence for their daughter's wedding. They initially enquired with the mighty Event Marquees team to put a marquee on the adjacent grass. At our on-site visit, our client jokingly said that ideally the marquee would be over the pool - "but that's impossible!" We were delighted to detail with them how possible it was.
It was the best position, taking in the waterfront views and providing the perfect aspect to take in the sunset.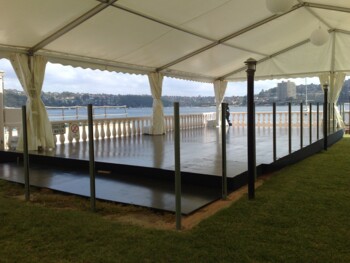 They were also concerned about access as they only had one narrow and steep path down to the event site. Again - no problem for Event Marquees. Our modular system, means we can transport it to tricky spaces.
First, we laid the floor over the poor to create a level, stable and super strong event base. Then we topped it with 10m x 15m marquee to provide shade, and in case of bad weather protection - just slide the sides across. Luckily, they had a perfect weather and it was only needed for the Sun.
Make enough space for your event - marquee over pool to the rescue!

We received this enquiry, from a hopeful client who wanted their special event at home. They had little backyard space but a good size pool - could we help? Event Marquees to the rescue!
We laid the dark wooden flooring first over the pool to create a level and strong event base.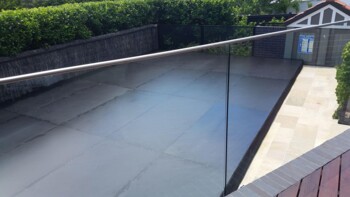 Event Marquees has high attention to detail and ensures all the things are properly finished.
You can see in the first photo the exposed timber sides. We capped them with the same wood to ensure a seamless look.
It looked absolutely stunning.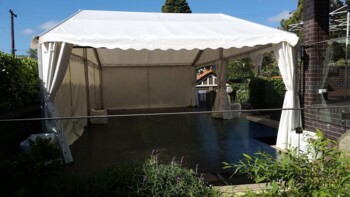 Lastly, we erected a marquee to provide cover for the event. There is nothing worse than standing for hours in the sun or worrying about rain. Adding the marquee means you can relax and enjoy your event.
Like all our marquees you can pull sides back for good weather, or slide them over in case of rain.
Event Locations with a Pool - just add a marquee
Are you an event venue with a pool?
Want more bookings?
Want something exciting that will get picked up and shared on social channels?
Yes, yes, yes?
We offer marquees for sale - so you could have a semi-permanent structure that is the ultimate event space. It's even a double winner when you use the pool that isn't used in colder months and have a fab new space for those slower Winter booking months.
Custom sizes are no issue. Whatever you desire we can make, supply and install.
Marquee Over Pool FAQ's
How long does it take to put a dancefloor & marquee over a pool? Generally, it takes a half to full day. For these jobs in most instances it will require a site visit where we can give you a pretty good estimate of the time it will take to install. This will also encompass the time it takes to move all the parts down to the site.
What size pool can you put a Marquee and dancefloor over?The maximum width of a pool cover we can do is 5 meters. The length is unlimited. The size of a marquee depends on the space provided but can go anywhere from 10m x 5m up to 20m x 20m and or 15m x 40m.
It looks expensive, is it? It does present as Hollywood exxy but it's generally quite a cost-effective option. Like all things, different options are at varying budgets, and the size will be a major factor. The cost will include delivery, set-up and dismantle, marquee and flooring plus any accessories you require.
My only access is narrow, steep and has steps - can you get a marquee in? Great question! Our marquees are completely modular - so they pack down small and can get through narrow walkways and steep sections.
Important note! If you have tricky access (narrow, steep, lots of steps, no / low parking etc) you must let us know so that we can plan and quote accordingly. We can get our marquees to lots of challenging places but tell us upfront to ensure no on-day event dilemmas.
If you need a marquee over a pool - Event Marquess are your marquee over pool specialists! Get in touch with us today