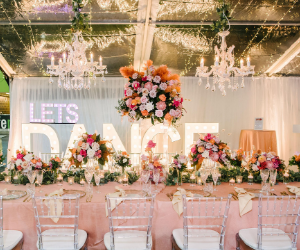 Creating exquisite events doesn't happen as a silo. We all pull together focusing on our strengths.
Event Marquees has a stable of the best of the best stylists, bespoke furniture hire, photographers and more - so we can create simply the best!
While not all Events need the full team, we were delighted to collaborate with @beautifulweddingsaustralia, @gmeventgroup, @eventletters, @inthebooth, @jacquimdesign and @wearetwine at the recent Queensland Wedding Expo. And wow what a result!! We were a very popular and well visited stand - well done team!
Expo perfect miniature look

With the limited space at the expo, the clever team was able to create the feel of a spacious wedding and showcase an exquisite set-up, that included:
Dramatic entrance
Romantic ceremony space
Video backdrop
Bridal table
Sit-down dining
White dancefloor
More casual break out space

You will see the dancefloor on a small scale - what you might not be able to see is - it lights up!!
On the right here is a close up of the white dancefloor, with embedded fairy lights. Simply divine! Get in touch with us if that's a must-have for your wedding!

Clear Marquee Perfection
This inspiring set-up featured:
All clear marquee - clear roof and sides
Twinkling fairy lights under the roof and chandelier feature light
Sheer white silk lining to create feature wall
Artificial grass underfoot bordered by new artificial hedge planter boxes
Exquisite styling from @beautifulweddingsaustralia and @jacquimdesign

Artificial Hedges make beautiful borders
Our new artificial hedge planter boxes were a big hit at the expo - being brand new and so functional and pretty.
As used here they provided the perfect border to the event space, both in and out. Outside the demarcate event boundaries, and inside the define ceremony space.
They teamed perfectly with our artificial grass and the flower & greenery styling. The planter boxes are available in white (pictured here), natural and/or charcoal.

Pretty Pallet Furniture over lush green grass
Our pallet furniture range has been so popular since it launched last year.
While it is often used in rustic settings, it doesn't just suit a country setting.
In this example with the addition of pastel flowers and pictures they become a romantic inclusion.
Not just aesthetic - but very functional. It provided the perfect break out area, for example here, to be used during the ceremony and reception dancing breaks!
Defining functional spaces
It is often a good idea to define your functional spaces throughout your event.
There is a range of different ways you can do this, for example as showcased here:
Sheer backdrop with oversized letters for main dancefloor
Flooring changes from green to white for the bridal dance
Ceremony space with hedges and oversized heart art
Arch entrance
We love to show off all Event Marquees can achieve, and loved being a very popular stand at the Queensland wedding expo. Get in touch with the helpful Event Marquees.