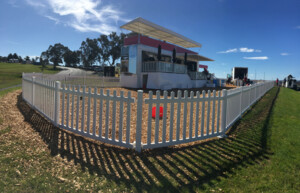 Event Marquees Picket Fence would be one of our most popular event hire items as it is so versatile, visually appealing and suits all sorts of events - from defining a space to making a pathway. Event Marquees has both the classic Picket fence and introduced in 2018, Boundary Event Fence. Our PVC Picket or Boundary fence is available for rent or for sale and we also offer a range of complimentary picket fence hire items.
Perfect Pop-up Spaces
Picket fence makes perfect pop-up spaces. Being so versatile it has many applications and it can be placed on any surface including grass, sand, concrete and tiles.
Define your Event Space
Picket Fence is quick and easy to set-up and can in most cases, be moved and handled by one adult.
It is able to be fashioned into any shape, and therefore allows you to create and define your event space.
This example had our Teak Umbrellas on hand in case of the hot predicted weather.
Add to Marquee to make an outdoor space
Our versatile picket fence looks so at home beside our marquees, to create a further space to mingle outside or like this example to queue up at a festival.
With the addition of our quality wooden flooring you will have a space that is high heel friendly, as well as rainproof.
Keep People Out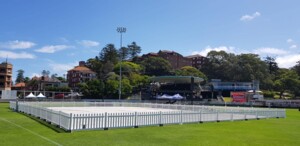 Perhaps you need to ensure that people (and in this case pets) stay off your area. For this example the Manly Cricket Club was at a critical juncture for its pitches - however they had an event booked for the rest of the oval.
Luckily Event Marquees was able to help by fencing off the no-go space, but in a visually appealing way. For this example we also provided pegs to reinforce the bollard, as the event was expecting a crowd of lively kids! We can also supply 20kg cast iron weights which work well for sand or concrete / tiles.
Make a clear pathway
Quite often events require people to tread a defined path, such as to validate tickets or for security clearance.
Picket Fence is perfect as you can quickly add in more sections if your line gets long, thus ensuring your waiting guests stay where they should be.
Then it can be easily packed up and stacked at Event end.
Add and subtract to create the ideal size
Having an optimal event area is usually a really good idea - too big and you won't get an event buzz feel, and too small and everyone is squashed in - what you want is just right.
Picket fence at your event means you can extend or bring in your event space so it's the perfect size. Our picket fence is easy to move, so if you get a crowd, simply add in a few extra sections to create more space, or remove a few to create a snug space for less people.
Pair and Style It
It look stunning left as is, however it can be easily adorned to make it match your theme, such as with bunting, signage or lighting. If your event does go into the night the addition of fairy or festoon lights on your picket fence looks stunning.
Pair it perfectly with Event Marquees high quality artificial grass or new in 2018 artificial hedges. These look fantastic with either type of Picket fence - classic or horizontal.
Horizontal or Vertical - go your way
Last year we introduced another picket fence line in the Horizontal Event Fence that provided a more modern edge, counterpointed to the classic picket fence.
Custom made for us - it features sleek white horizontal panels, teamed with broader fence posts that creates a modern alternative to classic picket fence.
Picket Fence Pop-up at Shopping Centres
Our pristine picket fence is routially hired out to many shopping centres to create instant spaces that attract attention or to provide a firm visual barrier for an area temporarily out of bounds. Here are a couple of great recent examples.
Kids Area
Busy shopping Mums and tired kids don't usually mix, that's why we are seeing the rise of dedicated kids areas in shopping centres.
Like this example at Rhodes, in Sydney, they created a pop-up space over Christmas where kids could play and do craft while their parents shopped. The addition of artificial grass provided a safe and fun surface for the kids.
Car Highlight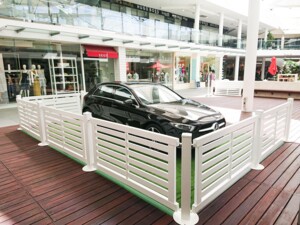 Whether it is to launch a new model car, or used to promote charity draws we often get asked to provide picket fence barrier in shopping centres.
The Picket Fence provides interest and will draw people over to see what is new or what they can win!
This example, for a new car model, they utilised our new Boundary Event Fencing over our high quality artificial grass.
Whatever sort of event you have whatever use you require Event Marquees has a picket fence ready for use. Our Picket Fence is for hire or for sale - get in touch with our helpful team today.