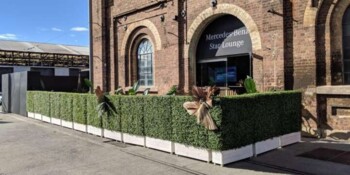 Event Marquees, the party and event hire experts have unveiled our stunning new artificial hedges for hire, the perfect addition to any urban party. Our Artificial Hedges are suitable for use in any setting, indoor or outdoor - from private party to bar terrace.
This beautiful topiary has been added at a number of high-profile events throughout NSW, QLD, VIC and ACT, for example at the Mercedes Benz Star Lounge event. They are fast becoming the event must-have of 2020.
Attractive functional accent to any event space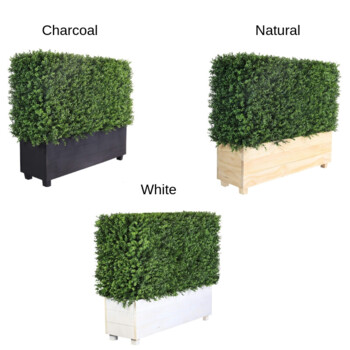 Event Marquees' Artificial Hedges are designed to look incredibly realistic, with their glossy Faux Boxwood hedging complimented by our handmade wooden planter boxes.
The planter boxes come in 3 colours:
Our standard artificial hedges available to hire are 115cm in length and are 90cm high. Event Marquees also have artificial hedges for sale. The offer a range of branding options as well as custom-made sizes.
Aesthetically Pleasing Crowd Control
Another excellent use for our artificial hedges is to provide an attractive and unique method of crowd control or public barrier. More decorative than traditional crowd control solutions plus the hedges are flexible and can be arranged in any configuration to direct traffic through spaces large and small and rearranged as the vent evolves.

Create Spaces Efficiently
Our Artificial hedges assist with maintaining operational efficiency during event set-ups and take downs with handy features including:
Assembled: this saves you time and hassle as there is no need for you to assemble
Lightweight: in most cases (even with large installations) their set-up can be undertaken by one or two people
Unique modular design: each hedge section to be linked together to create whatever space you require, whether it's closing off an area or providing an interesting backdrop with long length of artificial hedge

Artificial Hedge Adjunct Accessories
Event Marquees artificial hedges look stunning on their own but can be combined with our stellar event range such as:
Picket Fence: The perfect pair – artificial hedge combined picket fence is pure perfection.
Lighting: Essential if your event continues after dark. Our fave is delicate fairy lights that add an elegant touch of bling to any event
Pallet Furniture / Wine Barrel range: Our rustic range is an ideal match with our artificial hedge hire.
To find out more, visit https://www.eventmarquees.com.au/artificial-hedge-hire or call 1800 788 006.