Lovely Spring is here, and Australia finally sees some light in the COVID tunnel. It's time to get outside again and enjoy some normal. As governments look to create new spaces for pop-up cafes, events and other fun stuff - here's a handy guide from the experienced Event Marquees team. We are here to help you design & deploy any alfresco spaces!
Start with your Space & Usage
It's helpful to measure out your alfresco space, then think about how you want to use it.
Have you got enough space? Do you need to consider expanding this space with a semi-permanent marquee?
Consider if you are going only to use your space one way, or are you seeking a more dynamic space? For example, you can be a cafe during the day, and with some simple furniture, swap-outs transform yourself into a bar for night-time trading.
We can then provide you with some ideas for your set-up, or set-ups from our comprehensive range.
Event Marquees has been busy expanding our alfresco range which includes:
Functional Pallet Furniture
Designed and handmade by the clever Event Marquees design team. Available in both natural and whitewash our pallet furniture is a pop-up must-have. Our range includes:
• Bars - high and back wall combo
• Tables
• Ottomans
• Multi-use Food stall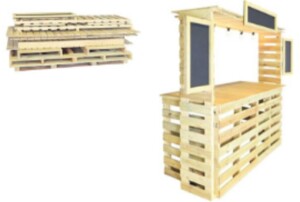 We can also custom-make pallet furniture. Event Marquees also offer a range of handy branding options for our pallet furniture.
Like all our bulky items it can be easily and compactly packed away making for straightforward transport and storage.
Wine Barrell Furniture
Our rustic wine barrel furniture is ideal for bar and cafe set-ups. We offer both wine barrel and wine barrel bars.
Team these with a selection from the wide range of Event Marquees chairs. Popular with the wine barrels are our white or black Tolix stools.
The bar can be easily packed up into a storeroom at the end of the day's trade.
Beer Table Set and Farm Table
These are a great option for an alfresco set-up and can be styled to suit all set-up types.
Both the farm table and beer tables fold down for ease of storage, should you need to pack it up each day.
The farm tables can be complimented by our range of chairs, complete with croosback chair for a rustic look, or utilise a Tiffany chair for a more classic look.
The trendy beer table set comfortably seats 6-8 guests and features varnished 100% Australian wood sourced locally with strong steel parts.
Create an aesthetic and effective border.
Quite often, when you are creating a pop-up space, you will also need to demarcate your area. Event Marquees has some great ideas that look fantastic as well.
Artificial Hedge: Much more beautifying than traditional crowd control solutions our artificial hedges are flexible and can be arranged in any arrangement. Them come in natural, white and black. Add some fairy night for some nighttime bling.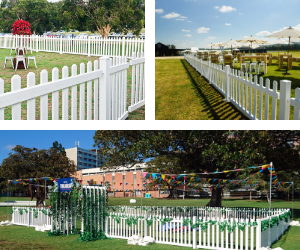 Picket Fence: Visually appealing and suitable all sorts of set-ups, picket fence makes perfect pop-up spaces. It can be placed on any surface including grass, sand, concrete and tiles. Event Marquees has both the classic Picket fence and Boundary Event Fence. Our PVC Picket or Boundary fence is available for rent or for sale and we also offer a range of complimentary picket fence hire items. It can be compactly packed away after each day.
All our boundary options are available for rent or sale, and we also offer a range of complimentary picket fence hire items
Outdoor Heating and Cooling Solutions
Spring can throw up all kinds of weather, so ensure your guests comfort by ensuring you have adequate heating, with our outdoor gas heaters or have some of our stunning teak umbrellas for sunnier spots.
If you need to make a space completely weather-proof, we offer a full range of marquees and flooring.
For Hire or buy with branding options.
Event marquees offer both hire (short or long-term) and for sale. Our marquee range can be erected as a semi-permanent structure, or just for a shorter rental. Whatever option you need - we can assist you.
If you are buying from our range, lots of our items can be customised with your brand or message.
Dedicated Warehouse and Team in each Eastern State.
We currently service Victoria, NSW & ACT and Queensland with teams ready to help in each state. Get in touch with your alfresco ( or other) requirements) - we are here to help! We offer delivery 7 days a week delivery.