What do you do when you have a VERY important event but there is literally nothing there? Event Marquees was tasked with this last week for the Global retail giant Amazon, with the ground-breaking ceremony for their to be built new multimillion-dollar hub on industrial land east of Brisbane.
Creating an amazing something out of Nothing
The event needed to look like something important was about to happen - on what literally was two football fields of craggy grass and dirt. The ground-breaking would be attended by Senior politicians including the Queensland Premier Annastacia Palaszczuk and State Development Minister Kate Jones, high-level corporate representatives from Amazon and the media.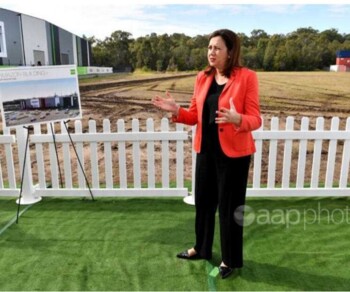 There were two main parts to ensure the event looked as important as the event:
Picket Fence & Artificial Grass: This perfect pair provided an event space that was clearly defined, as well as aesthetic. By using the artificial grass you smoothed over the existing surface so it looked great and was safer underfoot. The Picket Fence also added to this delimitation on the event space that could easily be reconfigured when more people attended that were expected.
Our pristine picket fence teamed with our high-quality artificial grass looked clean & professional, not just for the event attendees but for the all important photo shoot. It even made it to the nightly news!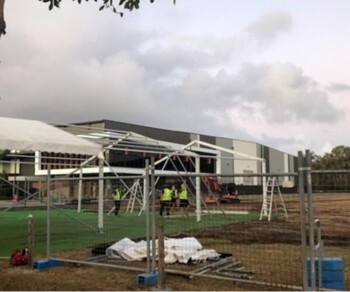 A Marquee means business: A marquee on site provides a clear cue that something exciting is about to unfold. So when guests arrive instead of being met with a plain field, they instead take our large (15m x 10m) pavilion marquee and knew there was an event worth attending.
Plus it provides the all-important weather protection. Being Queensland in Winter it could be too hot or rainy or both! Having the marquee ensures the event can go ahead whatever the conditions.
The marquee was completed with large Amazon branding: chat to us about our branding options for both our marquee range and fervent & furniture range.
Activations and Product Launches
As we demonstrated with the Amazon event we can create something amazing from nothing. So if you have a product to launch, an activation that needs to be active or a corporate event that needs to stand out - get in touch with our experienced team.
We can also assist with locations for marquee events that suit your proposed event. Event Marquees operates up and down the East Coast of Australia: Victoria, ACT and New South Wales.