While we love providing our marquees for a party (and isn't lovely we can have parties again), Event Marquees can also provide marquees for other purposes. Our marquees can provide pop-up or semi-permanent structures for medical use, such as drive-through testing or vaccination.
As the COVID-19 vaccine begins to be a reality, this type of set-up can be ideal for a safe & convenient vaccination roll-out.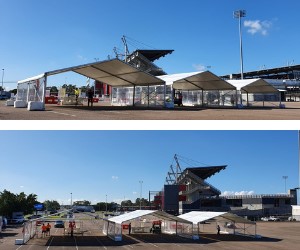 Drive-through Marquees | Flexible sizing
Over the COVID period, we did many drive-through marquee set-ups for COVID testing, at a full range of sizes.
The flexibility extends to;
Number of Drive-through lanes required
Length
Height
Adjunct structures, such as a marquee for team break-out
The drive-through set-up structures are ideal for vaccination centres.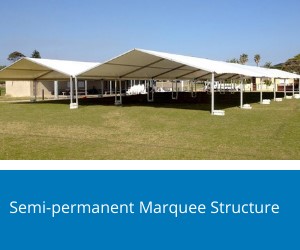 Secure on any surface
Our marquees can get erected on any surface, including asphalt and grass. Whatever the surface we will provide the correct footings ( whether this is weights or pegs or a combination) so that they are at all times;
Secure
Weather-proof
Stable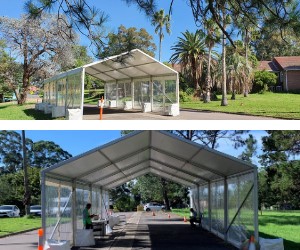 Protect your Team from the Elements
For the COVID drive-through testing centres, it has been important to our client's that our marquee structures protect their team members; who are often working long hours in the outdoors in a range of weather conditions.
Our high-quality marquee canvas UV protecting cover ensures sun protection.
While the canvas is water-proof to ensure a dry area, we provided flooring in the break-out rooms.
We can also provide a range of heating and cooling options to allow for staff comfort.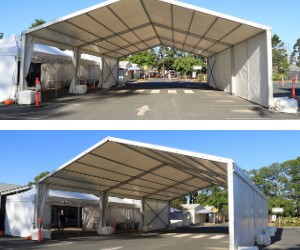 Semi-permanent Usages Accessories
In these changing times, our semi-permament marquees have been used for
Extending usable medical space
Increase Warehousing & Logistics Areas
Expand amenities for businesses and schools
Temporary Warehouses
Dining/seating space for hospitality businesses
We offer a full range of adjunct hire including;
Self-elevating wooden flooring
Heating & air-conditioning
Lighting & and power distribution
Furniture
Flexible Hire | Short and Long-term
At Event Marquees you can hire on a month to month basis so the hire period can be adjusted as your requirements change. Or on a semi-permanent t basis.
Get in touch with our helpful team today.