Many businesses are facing a new normal where they need to provide an extra space or facilities in order to be compliant. Marquees are an excellent answer to be both COVID19 Safe and keeping businesses, institutions, government & sporting groups operational. For some businesses, Covid has increased their demand requiring a temporary solution to give them more space for warehousing or manufacturing, for which our marquees are ideal.
Marquees.The Social Distancing Solution
A marquee is a nimble solution to expeditiously increase your usable space. Whether this is to be Covid compliant or for a new use, our marquees provide the optimal solution for many requirements including:
Drive through testing
Expand amenities for businesses and schools
Temporary Warehouses
Dining / seating space for hospitality businesses

Stay operational under the new guidelines.
Our semi-permanent marquee structures enable business to operate safely under the strict guidelines.
For example; for hospitality businesses we can quickly increase your usable floorspace to make your commercial operations viable.
Our social distancing marquee structures can be installed within days at any location and on any surface including grass, asphalt - even sand!
Quickly increase Warehousing & Logistics Areas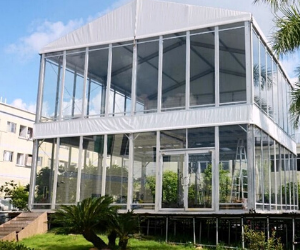 If you are one of those fortuitous businesses for which Covid has produced a boom you may not have enough space. React rapidly to these changing times with a temporary marquee that will instantly expand your usable space, such as to increase manufacturing or warehouse space.
Renting a new space means a long lease and lots of hassle. Instead a temporary marquee warehouse means you can have the space you need, for as long as you need - quickly!
At Event Marquees you can hire on a month to month basis so the hire period can be adjusted as regulations change.
Enabling Schools to be fully operational.
We have been helping many schools & universities with our temporary marquee structures.
For example to make larger and / or more classrooms and canteen or dining spaces that allow for the required social distancing table layouts.
We work 24/7 so can fit around school times for installation should you require.
Marquee Fit-out for your Requirements
Event Marquees can also assist you with the fit out of your temporary marquee.
This includes:
Self-elevating wooden flooring
Heating & air-conditioning
Lighting & and power distribution
Furniture
Please contact our helpful and experienced team on 1800 788 006 to discuss your requirements, or email info@eventmarquees.com.au