Why go clear?

Any astronomy enthusiast will tell you that the best stargazing can be done during the winter months and with a clear marquee over their heads at your event, the stars will more than align. Your guests will be able to view a crystal-clear winter night sky from inside the toasty and warm ambience that you have created for them.
Whether you are tailoring your function towards a vineyard, coastal, country or backyard setting, the versatile clear marquee will complement any such location.
Around 5/530pm is usually key event time and in winter, this happens to coincide with prime sunset viewing. And our clear marquees LOVE a sunset. At a summer event, guests will need to wait around until 8pm to say "wow" but in winter, you can use this timing and your clear marquee to your absolute advantage.

A protector from the elements
Did you know that a clear marquee actually retains the sun's heat making them the ideal winter choice for creating a cosy atmosphere?
All of our clear marquees have the option of opening or closing the side walls depending on the suitability of the weather on the day of the event.
They also safeguard you from wind and rain making them the ultimate weather-proof event space.
Now for the fun part – styling and lighting!

You really have a blank canvas when it comes to dressing up a clear marquee, allowing you to bring your styling ideas to life.
Winter time is THE time to go big with your lighting design.
There are no limitations when it comes to styling – think suspended foliage and greenery displays, masses of roof or topiary fairy lights, a feature lighting piece or chandelier and a festoon lights entrance. The clear marquee sky's the limit!
Our team at Event Marquees offers the full range of marquee accessories including:
Mass fairy lights over the roof and or sides;
Festoon Lights either running the length of the marquee or in a pattern;
Romantic chandeliers or on-trend lanterns;
Tiffany chairs (available in 4 colours)
Pristine white picket fence paired with high-quality artificial grass;
Modern white dance floor or traditional high gloss wood DF;
Black / white ottomans or rustic pallet furniture.
Marquee Sizes

All of our clear marquees are now available in a range of widths (6m, 8m, 10m, 15m) and a large variety of lengths (30m, 60m and 100m) depending on the width chosen.
Common, standard large clear marquees sizes are:
8m wide x up to 30m
10m wide x up to 100m
15m wide x up to 60m
Should you require a larger size however, we can work with you to configure a layout that suits your needs!
We will help you ascertain the perfect size of marquee for your event.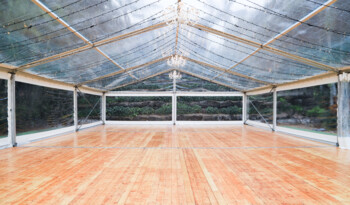 Large clear marquees are available to hire in NSW, QLD, VIC and ACT both on a short-term and long-term basis, as well as to purchase (Australia-wide, New Zealand, Pacific Nations and beyond).
Now that you have decided on a winter event, the clear choice of marquee is well… clear!
Get in touch with our helpful Event Marquees team to plan your magical winter event.