We love a party! But we are more than just fun times. Event Marquees offers both Emergency Structures and Temporary Warehouse Hire. We offer flexible hire, both short and long term, or even semi-permanent, as well as the full range of marquee or other hire accessories.

Emergency Structures
Our Emergency Structures are here and ready for you… just in case.
In these unprecedented times of uncertainty, you might find yourself suddenly requiring an expansive space for long-term warehouse hire and don't know where to look. We have that covered too. Whatever the reason, if you require an emergency structure, you need a trustworthy, reliable and accessible service. Our professional and experienced Event Marquees team is just a phone call away.
Whatever the situation, rest assured that we have your back.
Emergencies can occur at any time…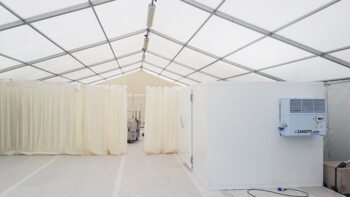 In a time of crisis, the last thing you need to be worrying about is the availability of necessary structures and how long it will take to erect them. Hence why we offer a quick turn around and are available to deliver and install seven days of the week. We are ready and equipped to deploy our temporary emergency structures along the east coast of Australia. Need a structure in another location – just ask us.
And they can last for any length of time…
Which is why we offer flexible hire, short and long term. At Event Marquees you can hire on a month to month basis meaning that the hire period can be adjusted as your requirements or the regulations change. You can also hire on a semi-permanent basis.
Situations beyond your control
Marquees are synonymous with parties, however, the reality is that we need to be able to service any type of event, planned or not. Our strong and sturdy marquees are versatile in their functionality and can provide pop-up or semi-permanent structures for medical use (such as drive-through testing or screening and vaccinations); storage; temporary accommodation and staff amenities.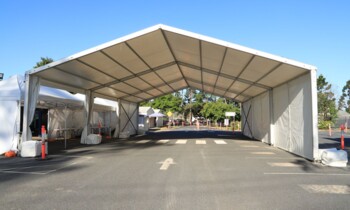 You might find yourself in need of an emergency structure for:
Establishing or increasing emergency spaces
An emergency overflow and back up facility
Temporary offices and workshops
A temporary warehouse extension and logistics area
Expanding amenities for businesses and/ or schools
Dining/seating space for the hospitality sector
It is good to know that we can provide assistance no matter what the situation.
Our Marquees know all about social distancing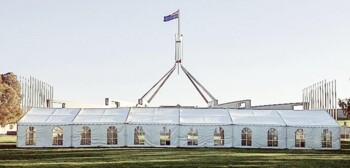 Due to new guidelines that are continuously updating, many businesses find themselves requiring extra space or additional facilities in order to be compliant and consequently operational. Marquees are an excellent and nimble solution enabling business to be both COVID-19 safe and also functional. Whether it is a business, an institution, a government body or a sporting ground, our marquee structures allow business to operate safely under the strict new guidelines.
Essential features of our essential structures
Sturdy wooden flooring with steel sub-frame
Heating and cooling
Lighting and power distribution
Furniture options for hire
Weather resilient and weather-proof
Emergency signage, fire detectors and extinguisher
Safe, stable and secure
Suitable for any surface (including asphalt, grass and sand)
Protecting team members from the elements is of the utmost importance to our clients and ourselves as they are the ones who are often working long hours outdoors and in a range of weather conditions. Our high-quality canvas covers provide UV protection and are also waterproof. We can provide flooring where required. So that staff are comfortable, we have a range of heating and cooling options available depending on the season.

Flexibility is key when it comes to dealing with emergency situations which is why all our COVID-19 drive-through testing set-ups differed. We accommodated the needs of each individual scenario and were flexible with their:
Size
Number of drive-through lanes
Length of the set-up
Height
Adjunct structures, such as a marquee for staff break-out purposes
Our temporary emergency marquees and shelters have the following specifications:
Clear-span width: from 6-15 metres
Side height: from 2.5-3.5 metres
Ridge height: from 4 - 5.5 metres
Bay distance: 3 or 5 metres
Maximum allowed wind speed: 100km/ph
Long-term Warehouse Hire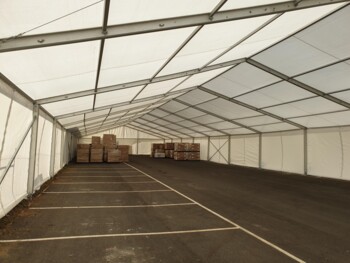 Do you need more storage? Perhaps COVID has been "kind" to your business and you suddenly need more space? Are you expanding but on a budget? Do you need a temporary structure but on a potentially long-term basis?
Renting a new space usually means a long lease, lots of hassle and a fat cheque.
Event Marquees can assist you with a temporary warehouse structure meaning that you will have the space you need for as long as you need and most importantly, we work around the clock to ensure that your structure is delivered and installed quickly. 100% weatherproof and all-weather resilient, our Event Marquees quality warehouse structures are suitable for any project or requirement. There are many reasons why you may be looking for a long-term warehouse solution.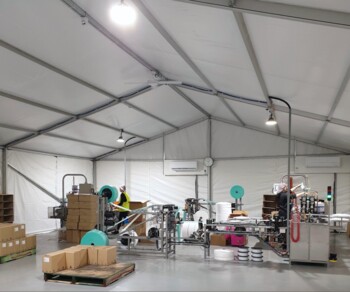 Perhaps you need:
Branch redevelopments
Production overflow and backup space
Temporary office and workshops
Industrial warehouse extension
Car park covering
Loading bay canopies
Space for blossoming click and collect part of the business
Temporary industrial structures
Vehicle transport and storage structures
Our warehouse storage marquees and tents have the following specifications:
Clear-span width: from 4-25metres
Side height: from 2.5-4 metres
Roof pitch: 18°
Bay distance: 3 or 5 metres
Main aluminium profiles: 3-4millimetres
Covers, roofs and walls: Double coated PVC, flame retardant to DIN 4102 B1, M2
Maximum allowed wind speed: 100km/ph
In a time of need, you can count on Event Marquees.
Get in touch.