Are you planning your wedding? Looking for something romantic? Sophisticated? Unique? And stand out? Look no further than our gorgeous Hampton Marquees. They encapsulate all that you desire for your wedding, paired with utmost flexibility for both sizing and theming. Our new Hampton Marquees have proved extremely popular for weddings ( and for corporates) so please enquire ASAP to secure your Hampton Marquee for your special day.
Wedding Grandeur & Romance

Any event with marquee cues that it is an important event and with a Hampton Marquee as your centrepiece marquee it will evoke a feeling of excitement to the occasion that will unfold. Their soaring peaks of white canvas and timbertec poles provide, from first glance, a sense of grandeur that only builds as your guests first walk in and discover the scale and beauty of a Hampton Marquee.
Hampton Marquees deliver romance with their pretty scalloped edges, beautiful lines, flags and the way they complement the natural environment they ooze romance - ideal for your perfect wedding day or reception ( or both!)
Beach, field, estate or vineyard?
Hampton Wedding Marquees are ideal in a range of settings, but all have in common that they allow for the landscape to provide an ideal natural backdrop juxtaposed against the grand white and timber of the Hampton Marquee.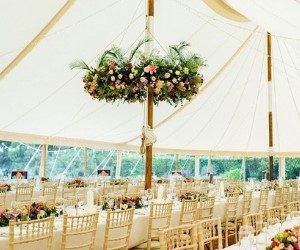 Here are some ideas for your Hampton Wedding Marquee location.
Paddock perfection: Rustic glamour nestled on a field surrounded by lush grass
Beach vistas: Coastal bliss on the beach provides a perfect ocean-view background
Divine Vineyard: Let the ample foliage and striking setting shine in, while enjoying the vineyards finest!
Lush Garden Estate: Beautiful gardens for a dreamy romantic setting
Don't have a venue? Not a problem! Event Marquees knows the best sites for a Hampton Marquee wedding. Get in touch with our helpful team.
Hampton Wedding Marquee Options

Completely flexible sizing options: Event Marquees Hampton Marquees offer a range of sizes so you can create flexible spaces to suit any type of wedding, from a large roving cocktail event to a more intimate sit-down dinner.
Flooring Options: If you want to ensure your Hampton Wedding Marquee is high heel and waterproof, add in one of our handy flooring options. Popular flooring options include our high gloss wooden flooring & the more modest PVC Pro-floor tiles.
Hampton Marquee Sides: We offer both clear & white sides to the marquee - you can even mix & match. Often sides are used \should the weather require or they also create a more cozy feel. Clear sides let the outside in. Our Hampton Marquees sides are simple to unfurl, should you wish to start with them up but then transition to down.
Hampton Wedding Marquee Accessories

Lighting: A Hampton Wedding Marquee is made for masses of lights. Most popular are strings of festoon lights with LED globes. If you are going for a luxe feel, you might even consider adding in a chandelier or 2!
Here are some great theming idea for a Hampton Marquee wedding!
Romantic: Pair our Classic Picket Fence & artificial hedges for a grand entrance., Inside Gold Tiffany chairs, White Ottomans, Chandeliers with mass fairy lights.
Rustic: Perfect for paddock or vineyard settings. Start your wedding with a custom-made cocktail from Wine Barrel bar, sipped from our Natural pallet furniture range used to create an outdoor. Add in Artificial Grass floor (if required)
White & Wood: Perfect for all settings! Use our Whitewash Pallet Furniture range with our new White Crossback chairs paired with our beautiful wooden farm table adorned with crisp white linen and finished with green & white flowers. White Dance Floor for your perfect wedding dance-off!
Modern: For a more contemporary look utilise Slimline Range Furniture, Horizontal Boundary (modern picket) fence and Event Bar
Our Event Hire range and accessories are constantly added to, so please get in touch for your specific requirements.
Our new Hampton Marquees are always proving extremely popular for weddings. So please enquire about your special day to ensure you don't miss out on these beautiful new marquees.