In times of uncertainty, one thing IS for certain… things are no longer as they once were.
The same can be said for the use of space.
In the past year organisations have had to think outside the square when it comes to doing business and here at Event Marquees, we are no exception. These unprecedented times have enabled us to become creative by transforming existing spaces into remarkable corporate event venues all the while strictly adhering to COVID-19 safe guidelines.
Be it a laneway; a car park; a warehouse; a street or a garage... Any place has the potential to become a fabulous event space with a sprinkle of imagination from our professional team. Whilst we certainly thrive in the way of traditional events, we also enthusiastically welcome the opportunity for adaptation and innovation.
All we need is a space and we can transform it.
(That's a lot of space talk, isn't it?)
Hopefully you have the mental space to keep reading (about space) … and we can show you how it's done.

Spatial Awareness
Experimenting with different spaces is half the fun.
Once you have decided upon your event theme, take measurements of the area, and take into considerations…
Do you have enough room for all the people coming?
You could create more space with a semi-permanent marquee structure.
Where to place the back of the house, i.e. catering, toilets...
What type of event is it? Standing or seated?
Does the space size suit the number of attendees?
Is there enough room for social distancing?
Does it comply with current COVID-19 measures?
If your event goes from day to night, will the space allow for this transition.
We are here to help you answer these questions and design the chosen space for your corporate event.
The Set Up
We have been busy expanding our fabulous furniture collection and are bursting at the seams with ideas for your corporate event.
Short or long term hire, as well as for sale, we offer the full accessory range.
We are nimble and can set things up quickly.
Pallet Furniture

Designed and beautifully handcrafted by our clever design team, our popular and versatile pallet furniture is a corporate event must-have.
Available in both natural and whitewash finish, you can mix and match items depending on your event requirements. We are thrilled to offer custom-made pallet furniture along with a choice of branding options.
Like all of our bulky items, the pieces can be easily packed for straightforward transport and storage.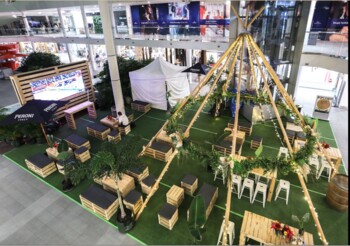 Our range includes:
Bar and bar back walls
Service bars
High tables
Cocktail tables
Coffee tables
Bar stools
Bench seats
Pod seats
Multi-use food stalls
Additionally, we have pallet furniture accessories such as seat cushions; lighting; plants; teak umbrellas and more.

Picket Fences
Forget middle-class suburban life with a family, a dog and a garden, our picket fences are much more.
Easily one of our most popular event items, the versatile Event Marquees picket fence is visually stunning and suitable for any type of event. It can be placed on any surface including grass, sand, concrete and tiles and is easy to set up, pack down and move around as needed.
We have two types of white PVC event fencing available. The Classic Picket Fence and the Boundary Event Fence, both available for rent or sale along with a range of complimentary picket fence hire items. The Boundary Event Fence panels provide a more modern edge and feature sleek white horizontal panels teamed with broader fence posts that create a modern alternative to the classic picket fence.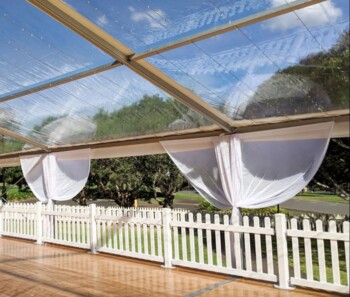 Consider a picket fence for:
Defining an event space, whatever the shape
Making a clear and defined pathway for ticket validation or security clearance
Keeping the public out of your area
Attracting attention
Providing a firm visual barrier for an area temporarily out of bounds
Creating your optimal event size by adding or subtracting
The striking look can be enhanced with accessories to match your theme such as bunting; signage or festoon lights if your event goes into the evening.
Artificial Hedges & Grass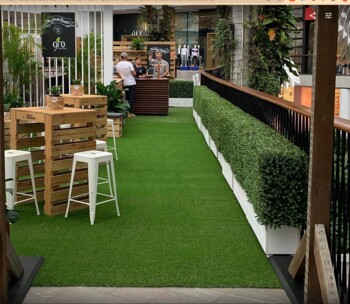 Our artificial hedges are the perfect addition to any corporate event as they are suitable for any setting, both indoor and outdoor.
This beautiful topiary is designed to look incredibly realistic, with their glossy Faux Boxwood hedging complimented by our handmade wooden planter boxes which come in natural, white or black.
Our standard artificial hedges available to hire are 115cm in length and 90cm in height. We also offer our hedges for sale along with a range of branding options and custom-made sizes.
For something a bit different, our artificial hedges can provide an attractive and unique method of crowd control. More decorative than traditional crowd control solutions, the hedges are flexible and can be arranged in any configuration.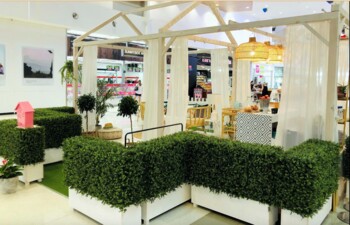 Handy hedge features:
They are already assembled
They are lightweight and, in most cases, the set up can be completed by one or two people
Each hedge section can be linked together to create whatever design or space you require
Combine them with the aforementioned pallet furniture, picket fences or a fairy light to add an elegant element to any event.
Not just a source of marquee hire, we are Corporate Event Specialists and we make creative spaces.
And we can't wait to work with you.