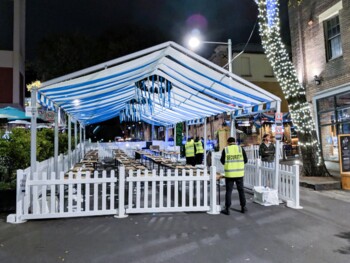 It would be remiss of us to not stop, gather our thoughts and pay tribute to the humble, reliable, versatile and very pretty white picket fence.
There's a reason that the picket fence has traditionally symbolised domesticity and contentment. Whilst we're not sure about the domesticity part, it's hard to argue with the contentment notion. They even named an early 90s television series after it!
Adaptable, agile, visually appealing and user friendly, it suits all types of events and can be styled in many ways.
Event Marquees' picket fence is undoubtedly one of our most popular event hire items.
Read on to find out why.
#1: Aesthetically pleasing
What's not to love about impeccably aligned sleek white posts? Such symmetry is indisputably agreeable to the eye.
Our fencing is made from the highest quality PVC and comes in a stunning high gloss white finish.
We offer two types of fencing – the traditional vertical and the modern horizontal boundary fence.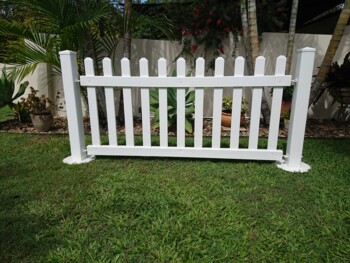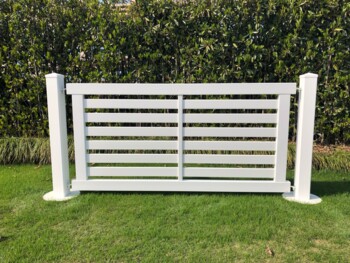 We recently introduced the modern and edgy horizontal option as a contrast to the classic picket fence. Featuring sleek, white, horizontal panels paired with broader fence posts, your guests will be impressed with this modern take on the classic picket.
#2: Flexible
Talk about workplace flexibility.
Our picket fences can be placed on any surface, they are easy to set up, pack down and move around as needed.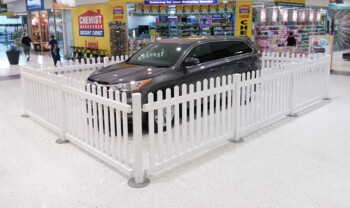 Suitable for indoors, outdoors and surfaces including grass, tiles, concrete and even sand, our fences allow you to create and define your event space as you wish.
They can be fashioned into any size space. You can mix and match fence panels and bollards to create the space that you require.
The striking look of the fence can be enhanced with accessories to match your theme such as bunting, signage or fairy lights especially if your event goes into the evening.
They are easy to theme and we offer a range of styling additions:
Artificial grass or hedges
Fairy or string lights
Umbrellas
Red carpet
Pallet Furniture
Wine Barrels
#3: Sturdy yet portable
Made from the highest possible quality material, you will find each panel and bollard (not to mention the end result) to be remarkably strong.
Despite the strength, they are also lightweight enough to be moved by one adult if required.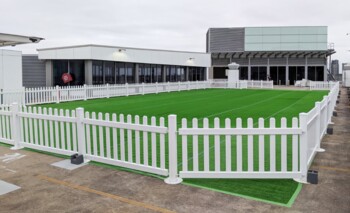 It is a quick and easy set up which, in most instances, can be handled by one adult.
Weights and pegs are used to secure the fencing and each panel is hooked in between two bollards in a continuous line. You can add or subtract panels and bollards to create the ideal size for your event. If you find yourself with a sudden crowd, you can simply add in an extra section or two in order to make more space or remove a few sections for a snug space with fewer people.
Should more than one continuous stretch of the picket fence be required, extra bollards will be required. We can guide you based on the layout that you're looking for.
We suggest hiring either 20kg cast iron weights or pegs (if on grass) to reinforce the bollard in high wind areas or if large crowds are expected.
At the conclusion of your event, the fencing can easily be packed and stacked meaning that you will have your feet up in no time.
#4: Versatile
Be it a country wedding or a black tie ball, a pop-up event or a large scale festival, this event chameleon shines in every scenario.
Consider a picket fence for: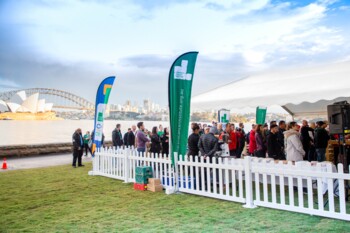 Defining an event space, whatever the shape
Making a clear and defined pathway for ticket validation or security clearance
Keeping the public out of your area
Keeping people or animals off of an area
Crowd control
Attracting attention
Providing a firm visual barrier for an area temporarily out of bounds
A pop-up space, event or shop
A temporary fence
A space divider
Product launches and corporate brand activations
Creating a VIP or restricted area
Wedding ceremonies and receptions
Whatever the event or scenario, Event Marquees has a picket fence ready for you.
#5: They are for hire or sale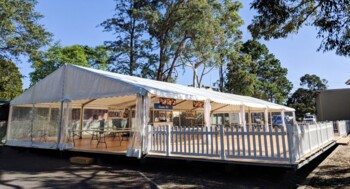 We know that events can, and need, to take place at any time which is why our quality and cost effective white PVC fences are available for hire seven days a week, every day of the year.
They are meticulously maintained and delivered clean and ready to use for your event.
The fence panels and bollards are usually delivered in a small truck or van, so vehicle access to the event site is required.
We deliver from:
Our Sydney warehouse to greater Sydney, Canberra and regional NSW
Our Gold Coast warehouse to Gold Coast, Brisbane, Sunshine Coast, all over Queensland and Northern NSW (Byron Bay); and
Our Williamstown North warehouse to Melbourne, Yarra Valley, Mornington Peninsula, Geelong and beyond
Of course hiring is one thing, buying is another! We also sell our beautiful fences and can deliver Australia-wide and beyond. CLICK HERE to access our 'Picket Fence For Sale' page.
Our pickets are perpetually popular so best to book in as soon as possible.
Get in touch with the Event Marquees team and let us fence your event.