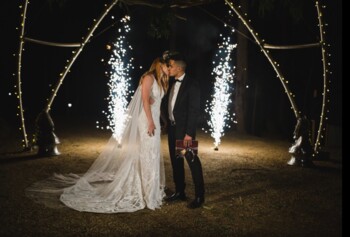 Baby, it's cold outside… There's something particularly charming about a winter event. Arguably the most romantic season of the year, it can almost be magical. A cosy candlelit wedding with ambient lighting, toasty heaters and warming drinks? Talk about love is in the (chilly) air.
A function in winter however, does require extra consideration and creativity to ensure that attendees (and hosts) are comfy and happy. So… grab yourself a warm cuppa and settle in for some winter event inspo.
So… Why Winter?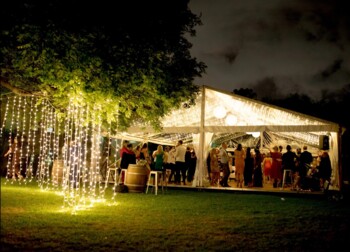 If nothing else, a winter event is the perfect opportunity to dress up and shake the dust off of those fabulous coats and jackets that have been hiding away!
As temperatures plunge, people's diaries suddenly become free and they want a reason to abandon their current state of social hibernation to get dressed up and brave the elements. In many ways it is the prime time to host an event as there is less likely to be a calendar clash.
It is safe to say that summer and spring are the most popular months to host an event and for good reason. This does mean however, that venue availability will be limited and you may not be able to book your first choice of caterer. Alternatively host an event in the winter months? You should be able to secure your fave caterer and the venue of your dreams.
Guests at an event held in winter are more likely to be found inside rather than outside which means that pivotal moments such as speeches, product launches and bridal waltzes won't be missed and you will have your guests' full attention.

The weather outside is frightful, but inside is so delightful
It is important to stay seasonal when it comes to event themes and fortunately there are endless ways to embrace the change in season and create your very own winter wonderland!
The cooler weather lends itself to natural colours, moody tones and earthy textures. In winter the trend is to move away from typical floral arrangements and instead opt for elegant foliage displays such as draped willow and eucalyptus or an arch made from branches. These displays can be just as striking as that of blooms.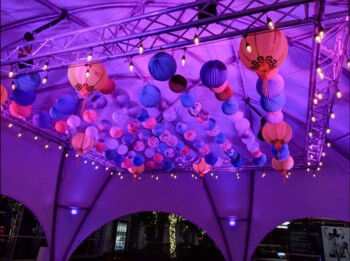 Don't be afraid to delve into the world of balloons and streamers for your winter event. Rather than colours usually reserved for a child's birthday party (pink and blue!), go metallic - gold, platinum and bronze. Throwing confetti into the mix will not only boost the fun factor but also give you a fabulous photo booth setting.
Keep things warm and metallic on the tables too with copper, gold or rust-toned cutlery rather than classic silverware. Matched with greenery garlands down the middle, your tables will look elegant and on trend.
Let there be Lights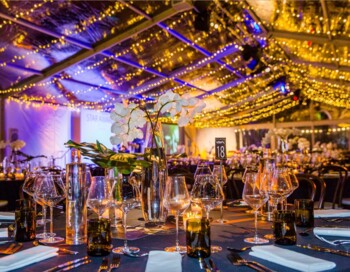 When it comes to creating an enchanting atmosphere, it's all about the lighting.
There is nothing more inviting and breathtaking than lighting up a room with chandeliers, string lights, fairy lights or lanterns.
And with cooler months come darker days which create the perfect backdrop for a cleverly thought out lighting arrangement. You can make a statement with your lighting from early in the evening as soon as the sun goes down.
This year's trend in wedding reception décor is all about hanging light installations with couples choosing a more minimal look for table centrepieces and focusing on what is up above.
Event Marquees has a full range of winter lighting.

Brrr… cosy vibes only please
A warm guest is a comfortable guest and a comfortable guest is a happy guest which makes way for a successful event!
Look no further than a good ol' gas heater to warm your event. Even in a large marquee, our gas heaters will do the trick. Talk to us about your needs, taking into account the space, number of guests and also how toasty you would like your event! For instance, a party with lots of activity or dancing requires less heating than a sit-down dinner. Whatever your heating requirements are, we can accommodate them.
If you are planning an outdoor element to your winter event, consider giving your guests a blanket or lap rug to keep them warm before they return inside.

Having a dedicated cloak room to house your guests' fabulous winter coats is highly recommended. Ensure you have plenty of hanging space, an umbrella rack and that the cloak room is heated. Style it with your chosen foliage, some lighting and a mirror which your guests will appreciate.
What better way to warm your guests' insides than with comfort food! It's the perfect excuse for hearty and nourishing menu choices. You can also be creative with your choice of drinks… mulled wine anyone?
Ready to put those winter feels into action?
Get in touch with the experienced Event Marquees team to make your winter event dreams a reality.