Is your wedding on the horizon? Are you looking for something that stands out, is elegant and unique? Then look no further and take a look at our stunning Hampton Tents. They embody everything you want for your wedding while also providing maximum versatility in terms of size and theming. Our Hampton Tents have proven to be highly popular for weddings (and corporate events), so please enquire as soon as possible to reserve your Hampton Tent for your special day.
Wedding Romance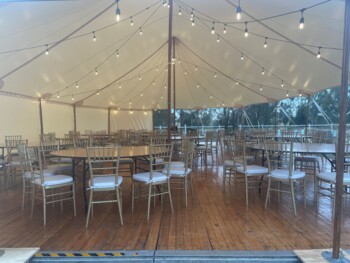 Any event with a marquee indicates that it is a special occasion, and with a Hampton Tent as the centrepiece marquee, it will add excitement to the celebration. Their soaring peaks of white canvas and timbertec poles offer a feeling of grandeur from the start, which only grows as your guests come in and witness the majesty and elegance of a Hampton Tent.
Hampton Tents exude romanticism with their elegant scalloped edges, beautiful lines, flags, and the way they match the natural setting - great for your perfect wedding day or celebration (or both!)
Beach, field, estate or vineyard?
Hampton Wedding Tents are perfect in a variety of situations, but they all have one thing in common: they allow the environment to serve as a beautiful natural background juxtaposed against the majestic white and wood of the Hampton Tent.
Here are some suggestions for your Hampton Wedding Tent.
Paddock perfection: rustic glamour tucked in a lovely grassy pasture
Beach vistas: Coastal tranquility on the beach makes for an ideal ocean-view background.
Divine Vineyard: Let the lush greenery and spectacular backdrop to shine through while experiencing the vineyard's best!
Luxurious Garden Estate: Lovely gardens for a cozy atmosphere.
Are you looking for a place to hold your event but don't know where to start? That's not an issue! Event Marquees is familiar with the ideal locations for a Hampton Tent weddings.
Get inspired by our latest projects: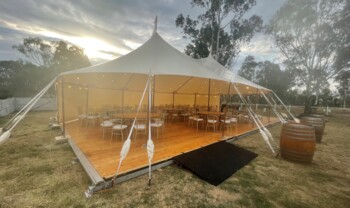 QLD – Private event at Hatton Vale
This Hampton Tent was set up at a beautiful location in Hatton Vale. The Tent was supported by our wooden flooring to keep the guests away from soaking grass after the rain. Event Marquees also provided round tables and stunning Gold Tiffany Chair. For the outside entertaining area, there were wine barrels with tolix stools as well as Teak Umbrellas to offer the family members and friends some relaxing chat areas.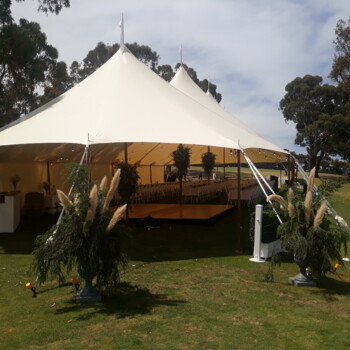 VIC – Seppelt Cellar Door, Great Western
For this stunning wedding, Event Marquees supplied beautiful 9.7m x 21.2m hampton tent with white walls and wooden dance floor. To keep the romantic atmosphere up until night, we provided some festoon lights. Since the Hampton Tent was set up close to a slope, we recommended using our picket fence with artificial hedges to provide a lovely looking boundery for the guests being outside the Tent, keeping them safe from the slope.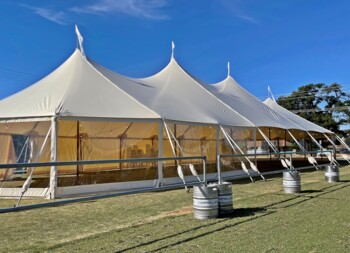 NSW – Campbell & George, Queanbeyan
This event included our 9.7m x 27.2m Hampton Tent with white and clear walls. There were festoon lights used to keep the Tent bright and festive.
Complete the look with our popular range of event equipment:
Get in contact with our friendly staff today.