Pallet Furniture and Wine Barrels
Everything rustic is very popular right now for good reason - as its natural warmth suits most events. Event Marquees is excited to have Pallet furniture and Wine Barrels in Event Hire Equipment Range. Both are available for hire or for sale.
Pallet Furniture
Our modern pallet furniture is perfect for most events and is particularly suited to rustic, industrial, sustainable or romantic themed events.
Made out of natural wood its natural backdrop allows for the addition of any easy styling elements to customise the furniture to your exact event look.
Pallet furniture Ideas
Use 2 bench seats to create L-shape, with stark white cushions. Then place a coffee table with white accessories and fairy lights for the ideal chill-out zone
Create a DIY cocktail station with a bar, high table & stools beside it to enjoy your very own custom-made drink
Make a kids zone with 2 coffee tables with colouring-in books & pencils. Add pod chairs with colourful cushions to complete the kids perfect space
Pallet Furniture Hire / Pallet Furniture for Sale
Our Pallet Furniture comes in 2 colours;
We offer;
Pallet Bars
Pallet Coffee Tables
Pallet High Tables
Pallet Cocktail Tables
Bench Seats
Pallet Pod Seats
Pallet Back Walls
Pallet Food Stations
Customised Pallet Furniture
Have some specific pallet furniture you need? Event Marquees offers customised pallet furniture so please get in touch for a quote!
Wine Barrels and Wine Barrel Bars for Hire
We offer beautifully restored original French oak wine barrel furniture collection hire that is perfect for all types of events. We offer both wine barrels and wine barrel bars.
The 330L wine barrels add gorgeous rustic charm and are perfect for weddings, corporate events, product launches that require a rustic touch.
They are easy to style and look particularly striking with mass floral display, pretty lace doilies, colourful festoon flags or fairy lights.
Apart from a standard bar or table they are great for:
Grazing table - e.g dessert station, cheese, canapes, cake
Signing table - either for the wedding ceremony or guest book
A pair of wine barrels to frame each side of the aisle
Registration table
Perfect Rustic Accompaniments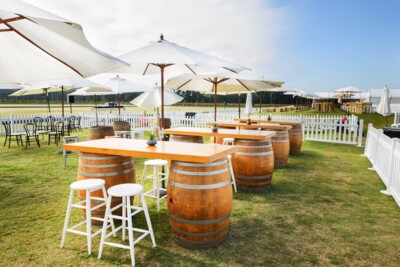 Our new pallet furniture and wine barrels go perfectly with Event Marquee faves;
Get in touch with Event Marquees today for your rustic event furniture and accessory needs!