It's time to honour our beautiful picket fence, since it belongs to one of the most hired and purchased items from our hire equipment range over the last few years.
Being adaptable, agile, visually appealing and user friendly. Those are the main attributes of why this very pretty picket fence became so popular amongst our customers. It suits all types of events and can be styled in many ways.
Read on to find out more.
Elegantly appealing
Picket fence is made from the highest quality PVC and comes in a stunning high gloss white finish. Our fencing offers impeccably aligned sleek white posts and such symmetry is undoubtedly pleasant to the eye.
We offer two types of fencing – the traditional vertical and the modern horizontal boundary fence.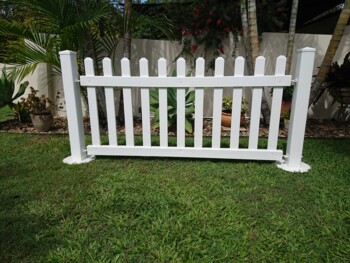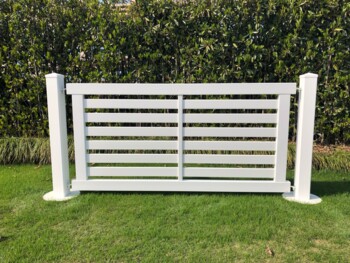 It was only last year that we introduced the modern boundary fence as a contrast to the original white picket fence. Featuring sleek, white, horizontal panels paired with broader fence posts, it immediately picked up more attention from our clientele and became the number 1 hired item together with our white marquees.

Versatile
Whether it is a pop-up event, wedding or a large-scale festival, this event item has it all.
Our picket fence is ideal for:
Crowd control
A pop-up space, event or shop
Wedding ceremonies and receptions
Creating a VIP or restricted area
Defining an event space, whatever the shape
Making a clear pathway for ticket validation or security clearance
Product launches and corporate brand activations and more
Whatever event is on your mind, Event Marquees has a picket fence ready for you.

Sturdy yet portable
The picket fences are made from the highest quality material, and we are confident you will find each panel and bollard to be remarkably strong.
Despite the fact they offer great strength, they are also lightweight so most people can move them with ease, without any help.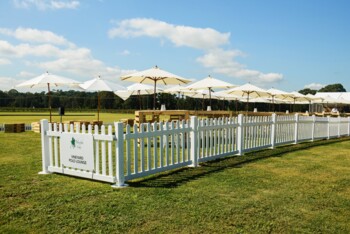 Flexible
Our picket fences are suitable for indoors, outdoors and surfaces including grass, tiles, concrete and even sand, allowing you to create and define your event space as you wish.
It is a quick and easy setup/ pack down which, in most cases, can be handled by one adult.
They are easy to theme and we offer a range of styling additions such as:
Artificial grass or hedges
Fairy or string lights
Umbrellas
Red carpet
Pallet Furniture
Wine Barrels and more
For hire or sale
Of course, hiring is one thing and buying is another! We have our snow-white picket fences available for hire and sale seven days a week, every day of the year.
They are very well maintained and delivered clean and ready to use for your event.
The fence panels and bollards are usually delivered in a small truck or van, so vehicle access to the event site is required.
CLICK HERE to access our 'Picket Fence For Sale' page.
Get in touch with the experienced Event Marquees team and let us fence your event.