The romantic wedding in a marquee has always been a favourite among brides. Regardless of the season, we can assist you in planning a stunning romantic wedding.
Since marquee can be designed to your exact specifications it is ideal for weddings with a romantic, ethereal vibe. Using a marquee for either your ceremony or reception - or both - allows you to host your wedding at any time of year and in any type of weather.
Marquees for Romantic Weddings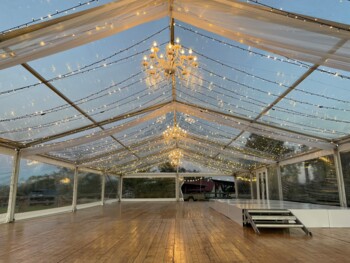 There are several alternatives available when it comes to selecting the appropriate marquee for your romantic wedding.
White walls and ceilings with a draped silk lining are the most popular styles for a romantic wedding marquee, creating a flowing and dreamy mood.
Choosing a dance floor produces a spacious image, allows the bride and guests to wear heels, and provides plenty of area for the guests to dance.
Dance floors, along with white walls and ceilings, give a timeless aesthetic for the perfect romantic wedding marquee.
Decorations for a Romantic Wedding Marquee
The primary aspects that make up a romantic wedding include candles or soft lighting, pastel colours, and tranquil décor. Use the following suggestions to plan a truly stunning and unforgettable wedding:
Romantic Wedding's Centrepiece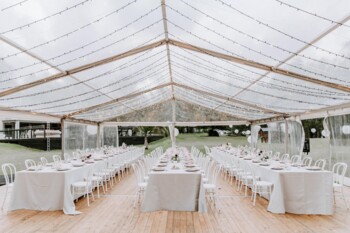 White tablecloths, shining glasses and gleaming silverware.
Fairy lights and candles
Elegant signs and lovely table accessories
White Tiffany chairs.
Pale pastel colours like Pinks, apricots, blues and whites.
Chandeliers adorn the marquee ceiling.
Candles and long-stemmed glasses
Hang rows of fairy lights create a starry night impression if you choose a marquee with clear roof.
White ottoman couches and cushions for a relaxing zone.
Creating the Ideal Romantic Wedding
Event Marquees are wedding marquee professionals who would love to assist you in planning your perfect day.
Please contact us to get things started.