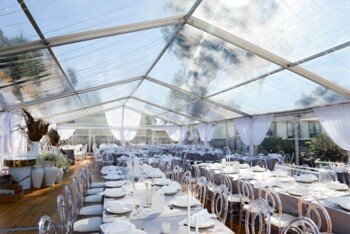 Illuminating Your Love Story: Clear Wedding Marquees
When it comes to weddings, creating an enchanting atmosphere is paramount. Imagine saying "I do" under the open sky while enjoying the comfort of a sheltered space. This dream can become a reality with Clear Wedding Marquees. In this blog, we'll explore why these transparent wonders are ideal for both wedding ceremonies and receptions. Discover how they come alive at night when adorned with fairy lights and festoon lights, and how our wedding furniture can elevate your special day.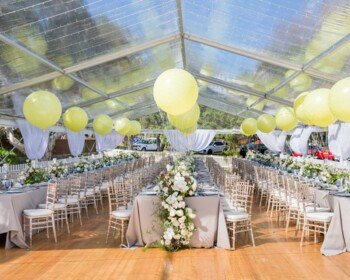 Ideal for Wedding Ceremonies and Receptions:
Clear Wedding Marquees are the epitome of versatility. They provide the perfect canvas for your wedding, whether you're hosting an intimate ceremony or a grand reception. The transparent walls allow natural light to flood in, creating an airy and welcoming ambiance during daytime ceremonies. As the day turns into night, these marquees transform into a mesmerizing space for your reception under the stars.
Starry Nights with Fairy Lights and Festoon Lights:
As the sun sets, Clear Wedding Marquees take on a new life. When adorned with fairy lights and festoon lights, they create a starry canopy that bathes your wedding in a soft, romantic glow. These lights add a touch of magic to your reception, turning it into an unforgettable night of dancing, laughter, and celebration. Whether you prefer the warm, enchanting glow of fairy lights or the elegant simplicity of festoon lights, the choice is yours to create the atmosphere you desire.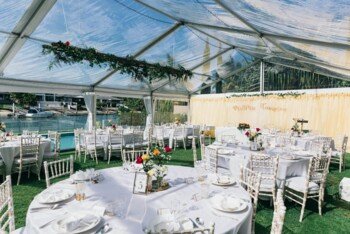 Elevate Your Wedding with Our Wedding Furniture:
To complete your dream wedding, we offer a wide range of wedding furniture options. From classic and timeless to contemporary and chic, our furniture collections are designed to suit every style and preference. Whether you envision long banquet tables for a family-style feast or elegant seating arrangements for an intimate gathering, our furniture can bring your vision to life. We understand that every detail matters on your special day, and we're here to ensure that your wedding furniture complements the beauty of your Clear Wedding Marquee.
Clear Wedding Marquees offer a unique and captivating backdrop for both wedding ceremonies and receptions. Their versatility, combined with the magic of fairy lights and festoon lights, turns your special day into a truly enchanting experience. And with our wide selection of wedding furniture, you can create a wedding that reflects your style and personality. Say "I do" to Clear Wedding Marquees and let them illuminate your love story in a way that's as unique and beautiful as your journey together. Contact our friendly team today.