Welcome to our Corporate Event Showcase, where we unveil the magic of turning business gatherings into remarkable moments. In this blog, we're thrilled to share a real-life success story – a dynamic product launch in the heart of Melbourne. With the Clear Pavilion Marquee as the star of the show, alongside party essentials like round tables and fairy lights, this event perfectly demonstrates how our offerings can transform ordinary corporate events into unforgettable experiences. Join us as we dive into the details of this event, where business brilliance met style and excitement.
The Melbourne Product Launch: A Tale of Achievement and Elegance
Imagine the bustling streets of Melbourne, alive with anticipation for a much-awaited product launch. The goal was clear – to unveil an innovative tech marvel. Our client envisioned an event that embodied their product's sleekness, setting the stage for a future full of promise.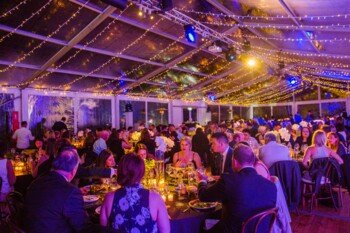 Enter the Clear Pavilion Marquee: Where Simplicity Meets Grandeur
At the heart of the event stood the Clear Pavilion Marquee – a true embodiment of elegance and sophistication. Its transparent walls allowed the city's skyline to become an integral part of the backdrop, effortlessly connecting the indoors with the outdoors. Inside the marquee, guests were greeted with a sense of openness and sophistication that perfectly matched the product's identity.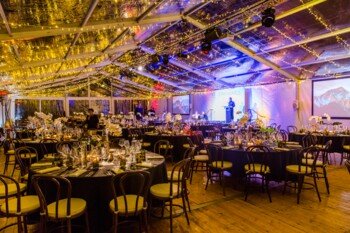 Round Tables, Chairs, Fairy Lights, and Heaters: Crafting the Perfect Setting
Creating an atmosphere that resonated with the product's innovation required thoughtful planning. Round tables and chairs, thoughtfully arranged, provided a comfortable and inviting setting for networking and conversations. The setup exuded a sense of camaraderie, inviting attendees to engage in discussions and share ideas. To add a touch of enchantment, fairy lights were delicately strung around the space, casting a warm and welcoming glow. As the sun set and the event transitioned into the evening, heaters ensured that guests remained cozy and comfortable, fostering an environment where business discussions seamlessly merged with casual interactions.
A Memorable Night: Where Business Meets Pleasure
As the event unfolded, our Clear Pavilion Marquee easily accommodated presentations, interactive displays, and entertainment segments. With its spacious layout and unobstructed views, attendees were fully immersed in the product's journey, from its inception to its innovative features. The marquee's adaptability ensured that the product remained the star of the night, without any distractions.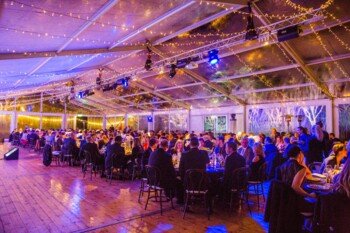 The Melbourne product launch exemplifies our commitment to transforming corporate events into extraordinary occasions. The Clear Pavilion Marquee, created an environment that perfectly mirrored the product's sophistication. Our Corporate Event Showcase is a testament to the possibilities we offer to elevate your business gatherings, crafting moments that captivate, inspire, and linger in memory.
Ready to make your next corporate event shine? Explore our range of offerings, from marquees to essential party supplies, and let us help you create a showcase that aligns with your business goals while exuding a sense of accomplishment and style. Connect with us today to embark on the journey to a truly exceptional corporate event.