As the season change and temperatures drop, hosting outdoor events can become challenging. However, with the advent of heated marquees, you no longer have to compromise on the comfort and enjoyment of your guests. We'll explore the benefits of hiring heated marquees from us and provide creative ideas on how to set them up using heaters, ottomans, tables, and chairs. Discover why our heated marquees are the perfect choice to elevate your outdoor events to new heights of warmth and elegance.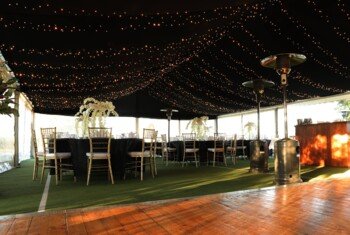 Why Choose Our Heated Marquees?
1. Unmatched Comfort:
Our heated marquees are equipped with gas heaters, ensuring a cosy and comfortable atmosphere for your guests, regardless of the weather conditions.
Our heaters allow you to maintain an ideal ambiance, creating a welcoming environment for everyone to enjoy.
2. Versatile Event Solutions:
Whether you're hosting a wedding, corporate function, or private celebration, our heated marquees offer a versatile solution for any event, transforming outdoor spaces into captivating venues all year round.
From intimate gatherings to large-scale events, our marquees can be customized to accommodate your specific needs and guest capacity.
3. Weatherproof and Reliable:
Built with high-quality materials, our marquees are designed to withstand various weather conditions, including rain, wind, and even snow, ensuring that your event proceeds smoothly.
You can have peace of mind knowing that our marquees are durable, weatherproof, and constructed to the highest standards of safety.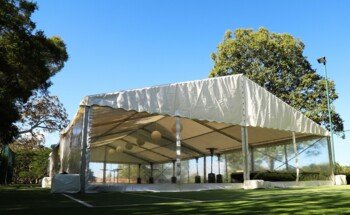 Setting Up Heated Marquees: Creative Ideas
1. Warm Oasis:
Place stylish heaters strategically throughout the marquee to create cosy pockets of warmth for guests to gather and mingle.
Adorn the space with plush ottomans and lounge seating areas, offering guests a comfortable spot to relax and enjoy the ambiance.
2. Elegant Dining Experience:
Set up long banquet-style tables adorned with elegant table linens, floral arrangements, and flickering candles.
Surround the dining area with heaters, ensuring a comfortable temperature for your guests as they indulge in a memorable dining experience.
3. Lounge Retreat:
Create a luxurious lounge area within the marquee, complete with plush seating, decorative rugs, and ambient lighting.
Incorporate heaters strategically to provide a warm and inviting atmosphere, perfect for intimate conversations and relaxation.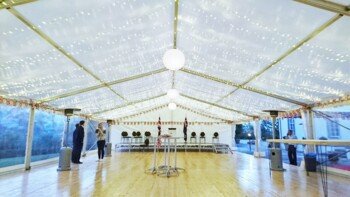 Benefits of Heated Marquees with Gas Heaters by Event Marquees:
1. Seasonal versatility: Our heated marquees allow for events and gatherings to take place year-round, even in colder months or during inclement weather.
2. Increased event capacity: The availability of a heated space expands the usable area and capacity of the venue, accommodating more guests.
3. Comfort for guests: Heated marquees create a warm and cosy atmosphere, ensuring the comfort and enjoyment of attendees.
4. Immediate warmth: Our gas heaters produce instant heat, eliminating the need for waiting and allowing users to enjoy the warmth right away.
5. Portability: Our gas heaters are portable and easy to move around, providing flexibility in heating various spaces.
6. Independence from electricity: Our gas heaters operate independently of electrical power, making them suitable for locations without access to electrical outlets.
7. Wide heating range: Gas heaters can cover large areas and provide heat to multiple people at once, making them ideal for outdoor gatherings and events.
8. Fuel availability: Propane, the most common gas used in heaters, is widely available and easily replaceable, ensuring a continuous heat supply.
9. Outdoor suitability: Gas heaters are also designed for outdoor use and can withstand different weather conditions, providing reliable heat even in challenging environments.
10. Cost-effective heating solution: Gas heaters can be more cost-effective in the long run compared to other heating options, especially in areas with high electricity costs.
With our heated marquees, you can transform outdoor spaces into inviting havens of warmth and comfort, providing an exceptional experience for your guests. Embrace the benefits of our heated marquees and create unforgettable memories at your next gathering, regardless of the weather outside. Contact us today to make your event stand out with our exceptional heated marquees.