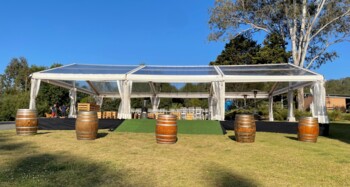 Something tells us that a joyous and eventful social period is on the horizon… and we feel pretty excited about it.
From family reunions to Christmas parties; summer festivals and corporate functions, postponed weddings to product launches, when communities begin to open up again, we will undoubtedly see a plethora of gatherings.
Rather than worrying about whether or not venue and furniture hire is available, why not take matters into your own hands and purchase them instead?
Event Marquees has brand new marquees and hospitality products for sale that you can call your own.
So grab your wallet and keep reading to find out more.
Buy Buy Baby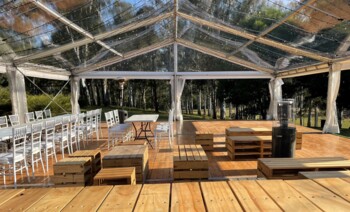 Imagine being able to throw a spontaneous (remember that word?) gathering without having to hire anything simply because you have access to your own party gear at the drop of a hat?
When you buy something you have ownership and complete control over it. You can enjoy the flexibility of when, how and where to use it.
If you find yourself hiring, rehiring and hiring again, a more financially viable option might be to buy the thing. With recurring festivities, gatherings and the like, purchased items will start to pay for themselves.
With over 20 years of experience, Event Marquees is a long established supplier of event management. Our highly experienced team prides itself on our quality products and competitive prices.
Long term relationships are at the forefront of our business which is why the buck doesn't stop at the sale transaction, we are here for the long haul providing ongoing service, repairs and replacements as required.
Q is for Quality
Ensuring that our products last the test of time is of the utmost importance to Event Marquees.
Which is why all of our sale equipment is of superior quality and commercial grade.
Our gorgeous pallet furniture range is crafted in Australia by our talented carpenters and is made from 100% Australian wood which is sourced locally for exclusive use in the event and hospitality industry.
The furniture tops are finely sanded and finished with two coats of West Australian handmade beeswax to produce a beautiful sheen.
Our marquee frames and covers have been tried, tested and modified. Structurally certified, they are strong, durable and built to last.
Made from high quality eco plastics, our picket fencing is weather resistant and has a durable finish which maintains its new look.
Here is our VIP sales range
Marquee structures
At a competitive price, you could own one of these magnificent structures.
Suitable for a variety of situations or events, they are available in any size and any arrangement and just like our dream wardrobe, a full range of (marquee) accessories is also available to purchase.
We understand that there is a difference between buying a new t-shirt and buying a new marquee structure which is why our marquees come with a comprehensive manufacturing warranty. Ongoing maintenance and other services are also available, simply ask one of our professional team members.
PVC picket fencing
Our picket fencing looks simply fabulous at any event and this inexpensive item is a sure thing when it comes to return on investment.
Traditional yet modern in its aesthetics, we have two types available - the ever popular white picket and also the new boundary fence.
Durable and weatherproof, the fencing is easy to set up and dismantle and when it comes to storing it takes up minimal space. Best of all it requires very little maintenance. In fact, a quick wipe here and there is all that is required.
Pallet furniture
Our chic and exceptionally versatile pallet furniture range includes service bars & food stations; cocktail & coffee tables; pod seats & benches, chairs and back walls with shelves, all fit to standard furniture dimensions.
Perhaps you have your heart set on a specific dimension or addition? Simply speak to our friendly team about our custom-made options such as additional shelving and lighting. We want you to enjoy your pallet furniture piece at max!
Our beautifully restored original French oak wine barrels are now available to buy.
Like gin to tonic, fish to chips, these barrels magnificently compliment our pallet furniture collection. What a pair!
Artificial hedges
Is there anything more satisfying than a perfectly manicured hedge?
Our freestanding artificial hedges are so naturally and freshly presented that they appear real. But don't be taking out your hedge trimmer anytime soon as these beauties are practically maintenance free.
Set in gorgeous wooden planter boxes (available in white, charcoal or natural), our sweet hedges are sturdy yet lightweight. They are weatherproof, UV stable and effortlessly portable.
Creating a spectacular boundary, entrance or walkway, we have seen our hedges used both indoors and out and for commercial and residential purposes.
Beer table range
Ticking all the boxes of on trend furniture requirements, our new beer table set includes a long table and two benches.
Made from the highest quality pine and powder coated steel legs, both the table and benches are of commercial grade and therefore made to last the distance and we all know that some gatherings can go on all night.
They are finely sanded and finished with three coats of clear varnish to produce a beautiful sheen and superior look.
If ever there was a table pertinent to 'paddock to plate' it is this rustic slab of goodness.
Our beautiful, new and dark-stained wooden farm table is designed to industry standards and comfortably seats 6-8 guests.
Robust, well built and maintained, the farm table is foldable for easy transportation and storage.
Whether it is having a morning cuppa and reading the paper, a long lunch with friends or drinks in the beer garden of a country pub, the farm table suits every scenario.
Branding
Nothing says ownership like putting your own stamp on something and with purchasing comes a number of branding possibilities.
Beer table range
There are many ways in which to add your print:
Separate signage (removable)
Stencil form sprayed on (permanent)
Largely visible logo (for advertising purposes)
Smaller logo (sometimes internally placed) for ownership markings
Pallet furniture
With additional SIGNAGE, you can add your brand or personalised feature either on a permanent or temporary basis. Solutions include Brass plates; wood burning; engraving and detachable print
Add your LOGO however you desire!

Separate signage (removable)
Stencil form imprinted (permanent)
Largely visible logo or a smaller logo

PAINT - Change the look with colour! Popular choices are white or lime wash. We can also apply corporate or theme colours.
We deliver… everywhere
We proudly deliver our 'for sale' range Australia-wide as well as to our event-loving friends in New Zealand and the pacific nations.
Whilst it would be nice if a marquee or pallet bench could neatly fit in a postal satchel bag, (they are portable but not THAT portable) knowing that this is not the case is why we offer flexible delivery options to ensure that your newly purchased item/s are in your hands as soon as is humanly courier possible.
Collection from our NSW, QLD or VIC warehouses is also an option (dependent on current COVID-19 restrictions).
Hiring something is great but there's nothing quite like owning it.
And our qualified team is here to help you make the right decision for YOU.
Get in touch and enquire about our brand new and high quality items for sale.