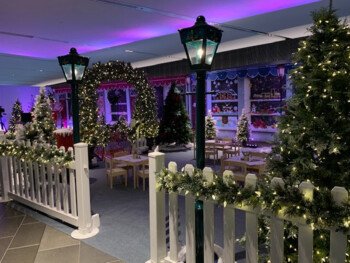 The iconic allure of a white picket fence isn't limited to suburban homes and cottages; it extends into the world of industrial and event spaces. In this blog, we invite you to explore how
White Picket Fences for Sale
can transform industrial venues and events into havens of timeless charm and versatility.
Benefits of White Picket Fences in Industrial and Event Settings:
Chic Event Backdrop: Elevate your event's aesthetics with a white picket fence as a charming backdrop. It creates a focal point for ceremonies, photo booths, and outdoor gatherings, adding an air of sophistication to any occasion.
Effortless Event Design: White picket fences offer a versatile canvas for event design. From rustic to romantic, they can be adorned with floral arrangements, fairy lights, or drapery to match your event's theme, effortlessly enhancing its visual appeal.
Crowd Control: In larger events, white picket fences serve as practical crowd control barriers, ensuring smooth traffic flow while adding an elegant touch. They're especially useful for maintaining order without sacrificing aesthetics.
Industrial Venue Transformation: For industrial spaces, a white picket fence can work wonders in softening the surroundings. It creates a juxtaposition between the rugged industrial backdrop and the inviting charm of the fence, making it an excellent choice for warehouse weddings and industrial-chic events.
Customizable Heights and Styles: White picket fences come in various heights and styles, allowing you to choose the one that complements your event's atmosphere and theme. Their customization options make them adaptable to a wide range of settings.
Easy Setup and Removal: White picket fences are easy to install and dismantle, making them a convenient choice for event planners and venue owners. They provide a quick and effective way to transform a space while ensuring a hassle-free cleanup.
White Picket Fences for Sale offer more than just aesthetics; they provide versatility, practicality, and timeless charm for industrial venues and events. Whether you're looking to create an elegant backdrop for a wedding ceremony or control the flow of guests at a corporate event, these fences can seamlessly blend functionality with style. Explore the possibilities, customize your fence to match your theme, and let it work its magic in transforming your event or industrial space into a haven of enduring charm.
Contact
our friendly sale team today!