Stunning wedding in Brisbane / 9.7m x 27.2m Hampton Tent
This fairy tale wedding reception was held in our all-time favourite Hampton tent and took place in March in the beautiful city of Brisbane. The venue was transformed into a warm and inviting space with wooden flooring, providing a cosy atmosphere for guests to gather and celebrate. Soft and twinkling string lights adorned the interior, creating a magical ambiance that filled the air with joy and romance. Tables and chairs were thoughtfully arranged, offering a comfortable and stylish seating arrangement for guests to enjoy the festivities. This Hampton tent created a charming setting for a truly memorable and delightful wedding reception, where love, laughter and cherished moments were shared among loved ones.
SEE OUR HAMPTON TENT HIRE RANGE HERE
Corporate function in Sydney / 10m x 30m Clear Marquee
At the beginning of the year, in the heart of Sydney, our impressive 10m x 30m clear corporate marquee took centre stage as the backdrop for an exciting product activation event. This modern and transparent structure provided a visually striking setting to showcase the brand's latest offering. With its see-through walls and roof, the marquee allowed abundant natural light to flood the space, creating an open and inviting atmosphere. Against the iconic Sydney skyline, the 10m x 30m clear corporate marquee served as a dynamic platform for a successful product activation, leaving a lasting impression on guests.
SEE OUR CORPORATE MARQUEE HIRE RANGE HERE
Industrial Melbourne / 15m x 50m Industrial Marquee / Temporary Warehouse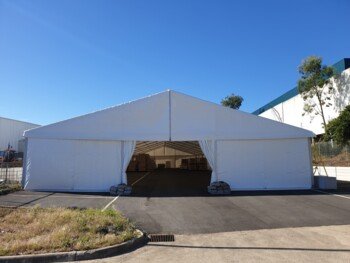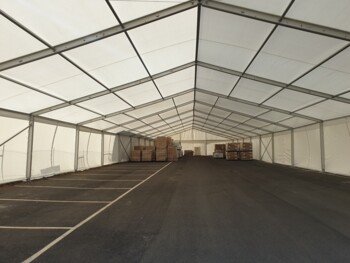 A local production company in Melbourne faced the challenge of storage and production overflow. To address this, they repurposed one of our 15m x 50m industrial marquee as a temporary warehouse structure. Since their operations continued to grow, a section of the marquee was cleverly converted into an office space. This practical solution allowed them to efficiently manage inventory, streamline production, and foster a more organized workflow, showcasing the company's resourcefulness and adaptability in utilizing the marquee for their evolving needs.
SEE OUR INDUSTRIAL MARQUEE HIRE RANGE HERE
If you have any further questions or would like to inquire about our services, please don't hesitate to contact us. We are here to assist you and make your future event a success!