A Beautiful Wedding in a 15m x 25m Marquee: Elegance and Intimacy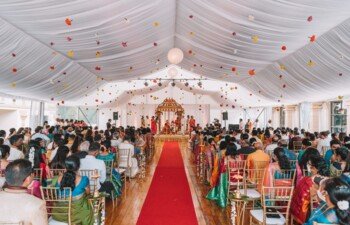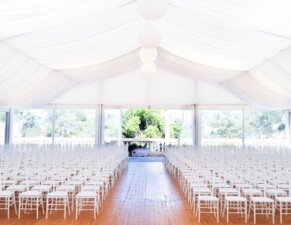 Experience the beauty of a 15m x 25m marquee wedding, where love and charm come together in a space adorned with lovely linings, enchanting lanterns, a polished wooden floor, a stage, and luxurious gold Tiffany chairs. The marquee's dimensions of 15m x 25m provided the perfect setting for a dream wedding, enhanced by elegant linings that draped the walls, creating an inviting atmosphere. Delicate lanterns hung from the ceiling, casting a warm glow that added a touch of romance as guests danced and mingled beneath their captivating light. A sturdy wooden floor provided comfort and a suitable surface for dancing, while a captivating stage became the focal point for exchanging vows and heartfelt speeches. The reception area was adorned with opulent gold Tiffany chairs, exuding refinement and elegance. In this intimate setting, love and enchantment intertwined, creating a beautiful experience that will be cherished for a lifetime.
Celebrating a Momentous Corporate Anniversary in the Enchanting Hampton Tent
Celebrate a momentous corporate anniversary in grand style within the stunning confines of a 9.7m x 27.2m Hampton tent. This exquisite occasion brought together elegance and sophistication, as the tent was transformed into a breathtaking setting adorned with beautiful greenery, enchanting string lights, and a polished wooden floor. The scene was set with impressive monster trestle tables and chairs, providing a sense of grandeur and refinement. The carefully curated greenery added a touch of natural beauty, while the soft glow of string lights created an enchanting ambiance. With a spacious wooden floor underfoot, guests mingled and toasted to the company's accomplishments, forging unforgettable memories in this extraordinary corporate anniversary celebration.
The Adaptive Marvel: An Industrial Marquee Transformed into a Temporary Warehouse in Bustling Melbourne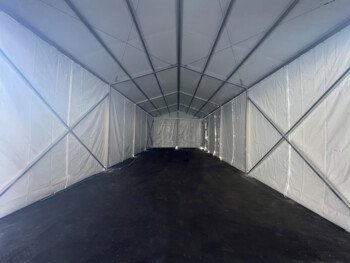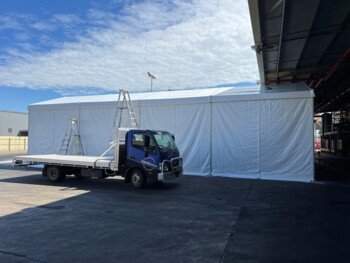 Discover the incredible versatility of an industrial marquee in the vibrant city of Melbourne, as it underwent a remarkable transformation into a functional and flexible temporary warehouse space. This adaptable marquee became the perfect solution for businesses in need of extra storage or workspace within the bustling urban landscape. With its sturdy construction and spacious interior, the marquee seamlessly accommodated a wide range of goods, equipment, and operational requirements. From providing a secure haven for surplus inventory during peak seasons to serving as a temporary workshop for projects, this industrious marquee in Melbourne proved to be an invaluable asset, effortlessly adapting to the ever-changing needs of businesses in the dynamic cityscape.
For any additional inquiries or if you require further assistance, please feel free to reach out to us; we are dedicated to ensuring your upcoming event is a resounding success!