Rustic Weddings are hugely popular at the moment. Rather than using table covers and satin bows around the chairs, rustic weddings have a very natural look. It's about using lots of wood, hessian and natural products and having a very relaxed feel to the occasion.
You can tailor-make your rustic wedding to any location, even a beach! Event Marquees are the wedding marquee specialists. We can help you create your dream rustic wedding.
Rustic Wedding Marquees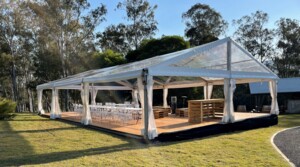 We have two types of a highly sought-after marquee styles to suit rustic weddings. These are:
A large marquee with white roof, white retractable walls and wooden dance floor area.

A large

clear marquee

with wooden flooring and rustic furniture
If the venue doesn't already have a grassy area, some couples choose to have artificial grass used as flooring to keep in line with the rustic, outdoorsy theme. We offer quality artificial grass that looks natural - we invite you to come to our showroom to see for yourself.
Large marquees provide a lot of open space allowing for the interior design to flow outside. It also lets guests stand and mingle indoors, rather than it just being the area for sitting down and eating.
Rustic Wedding Furniture

One of the key elements to planning a rustic wedding is deciding on what furniture you will have, both indoors and outdoors.
For the outdoor ceremony, get creative by using re-purposed wood, furniture and flower boxes as decorations, backdrops and food and drink stands. Hay bales covered in quilts or blankets are great for aisle seating during the ceremony.
Indoors, for the seated area, you can hire our crossback chairs or our NEW! farm benches with our beautiful farm tables. Also keeping the tables exposed creates a laid-back feel. Old wooden barrels can be used as flower stands, and if you can find ones large enough they look great as drink tables for people to gather around.
Rustic Wedding Ideas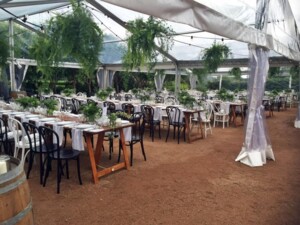 Here are a few of our favourite tips and ideas for rustic weddings:
Invite guests to dress less formally. This goes for the groom and his groomsmen too.
Use string or patterned ribbon to tie around your cutlery or place names, or to decorate your chairs.
Place flowers in jam jars or milk jugs, or use an eclectic mix of both.
Hang bunting flags inside the marquee to add a splash of colour.
Use an old wooden cart, farm equipment etc. to add to the rustic feel.
If the weather/venue/council permits, have an outdoor bonfire to warm up the evening and create a cosy atmosphere.
Have bouquets of flowers in old baskets of different shapes and sizes scattered around the marquee and outdoor area.
Get in touch with Event Marquees today for your rustic wedding marquee and accessory needs!